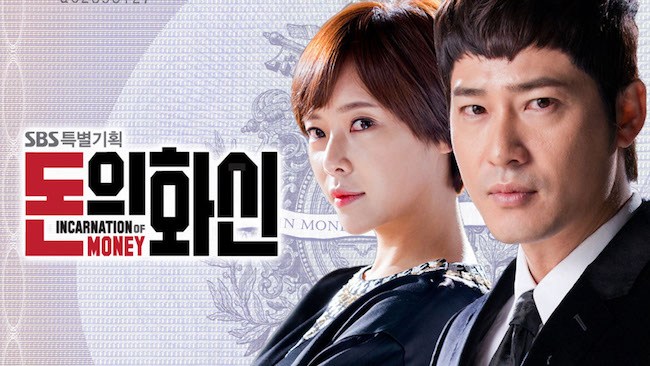 After watching Incarnation of Money Korean drama for the second time, same feelings all over the place again. I had to rewatch it, since I want to finish this review as accurate as possible. And since my memory had already forgotten about mostly everything, the great sacrifice had to be made. *giggles*
There are many types of dramas, the ones that we find going through lists and to which we don't pay much attention, and those that we impatiently wait for. Incarnation of Money Korean drama was in this last group, since every time I find out Kang Ji Hwan is playing a part, I can't but to wait for it to air and be able to watch it. Mostly because almost everything I've watched from him was a great entertainment and he's getting even funnier and better.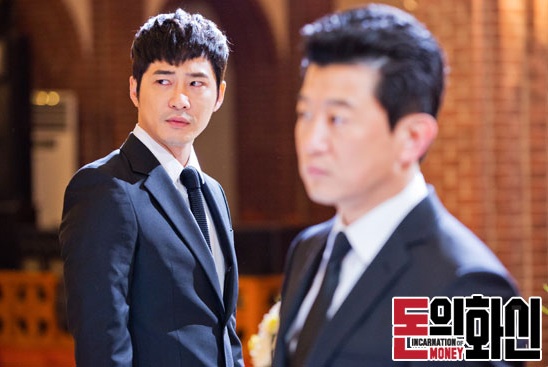 I should tell I didn't like Big Man enough to be a fan, but that might be the only exception.
To start with this Incarnation of Money Korean drama review, I have to name this amazing cast which will bring a thrilling world of intrigue, injustice and of course, money.
Synopsis of Incarnation of Money Korean Drama
10 million dollars start flying in the air while construction workers start digging in an abandoned land. Prosecutors will be called to this place and they will start investigating who's the right owner of this huge amount of money.
It turns out that several years ago, an old Tycoon was murdered and his whole fortune was strangely given to his lover, while his rightful wife was falsely accused and sent to prison. This couple's son, Lee Kang Seok, found out about the whole scheme portrayed by the family lawyer and his father's lover.
With no place to run, perpetrators will try to kill him but he will be able to escape, although he will lose his memory in an accident and totally forget of everything until he's way older and become a prosecutor, who will start a long path to discover what happened to his family.
Starring in Incarnation of Money Korean Drama
Kang Ji Hwan (Big Man, Runway Cop, Rough Cut)
Hwang Jung Eum (She was pretty, Secret, Kill Me Heal Me)
Park Sang Min (Giant, Scandal, Oh La La Couple)
Choi Jeo Jin (I'm sorry I love you, More charming by the day, The Lover)
Oh Yoon Ah (You're all surrounded, Angry Mom, Firstborn)
Kim Soo Mi (The legend of the witch, Granny's got talent, Ohlala Couple)
Park Ji Bin (The suspicious housekeeper, May Queen, Kids from heaven)
Kang Ji Hwan
Plays Lee Cha Don's part and also Lee Kang Seok, who will be also fantastically played by Park Ji Bin when the character is a teenager. Lee Cha Don opens up the act as a prosecutor who will have to face his own ambitions and his superior's.
Hwang Jung Eum
On the girl's side, she's the one who gives life to Bok Jae In, a silly girl that enjoys her mother's money without worrying too much about anything but food and her romantic dreams. She will learn about life the hard way.
Park Sang Min
Plays a despicable lawyer who would do anything to get his goals met, and disguises his ambition with a revenge that goes too far.
Choi Jeo Jin
Is Cha Don's boss, a beautiful prosecutor with amazing skills and great values. Tough and pretty, she wants to build her spot with her own skill in a field. A place that is mostly handled by men.
Oh Yoon Ah
Another great part of this drama, playing as Eun Bi Ryeong, also known as Angelina. A well known model, ambitious and looking for money and power. Although later on we will learn that there is something else behind her absolutely twisted attitude.
Kim Soo Mi
Last but not least, she plays the most fantastic role in the whole drama, Jae In's mother, Bok Hwa Seol. The most perfect mother that anyone would love to have. She will do anything for her one and only daughter to succeed. Although her ways might seem a little too hard and extremely unorthodox.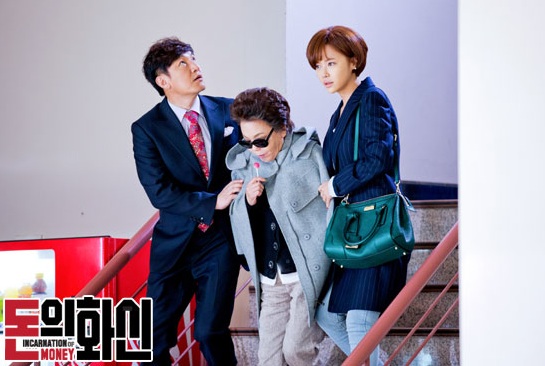 Conclusion
The whole drama has everything that you will want to find in a thriller. You will laugh, cry, scream, enjoy, hate, and want to seek for revenge. Smart people making plans to catch other smarter people, and the whole circle of situations that will not rest, or allow you to do so.
An amazing and highly recommendable drama. Enjoy the trailer at the top of the post!