Being a fan of the previous two editions I couldn't leave this one out. It took me a while to finish it because, well I do have a job (laughs). And there are a lot of interesting dramas airing. So sorry to make you wait for the I Need Romance 3 review, but here it is!
From the start, the story, was kinda refreshing but I still haven't made up my mind. Maybe it was because of the script or just the way it was shown. I would conclude it was a little bit of both. Even tho it grows slowly into us, step by step, we get trapped by this simple yet complicated story. I'm a believer that there's few things more complicated than love at certain ages. Specially for people that have been hurt many times and are trying to rebuild their lives.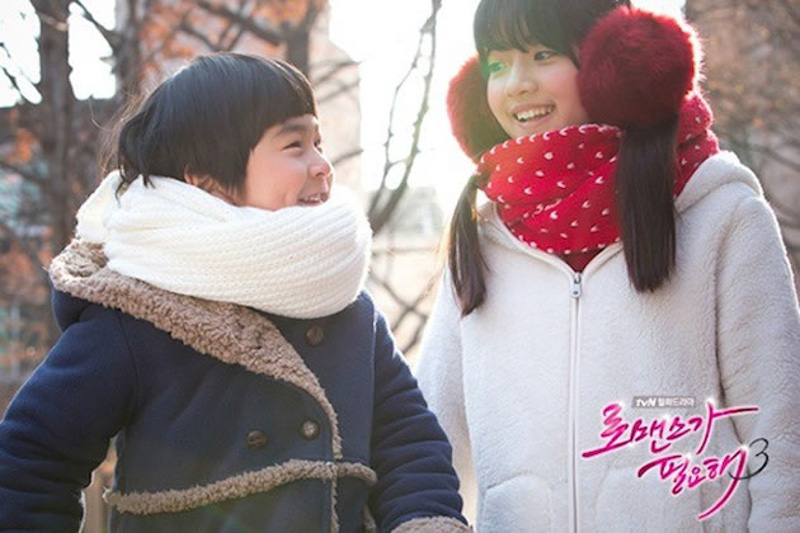 Synopsis of I Need Romance 3
The story follows the life of three coworkers. The first is a woman in early thirties (that apparently in dramas is the end of life itself). She breaks up with her boyfriend thinking this time will be the last chance she has to be happy. The second woman finds out she's pregnant without even having a boyfriend, which in that society is also a little bit troublesome. Lastly, the third, is a dreamer that falls in love really easily.
These three women will try to make the best to rebuild their lives the best way they can. And of course all of them will have a chance at it even tho it doesn't seem like it at first.
Starring I Need Romance 3 2014
Kim So Yeon
Two Weeks, Prosecutor Princess, Iris
Is Shin Joo Yeon an selling team experienced and successful leader in a home shopping company that struggles with her personal life because of her insecurities. Despite her experience with man she still doesn't know how to properly relate to others. Her childhood friend whom she used to call Sweet Potato is now a handsome young man that came back from US to conquer her heart without any notice. She did an excellent job but I still like her more in tough parts, I wish there was a main action lead role for her next time.
Sung Joon
Can We Get Married?, White Christmas, Gu Family Book
Is Joo Wan, Shin Shin's friend from her childhood. He used to be an spoiled little boy whom she has to look after and take care like an older sister. He was secretly in love with her from that time and after he became a successful music producer he came back with his clear mind and sincere heart to turn Joo Yeon's life upside down. He's usually excellent at his roles, this wasn't an exception and I'm happy he got a better story than his forgettable last drama, Can We Get Married?.
Namgung Min
Unemployed Romance, Cheongdamdong Alice, Can You Hear My Heart?
Is Kang Tae Yoon, Joo Yeon's boss and the one that makes her flutter. He was going out with Joo Yeon's lifetime rival and now that relationship is over. He's a stiff man, he doesn't show any emotion so everyone (including her) would think he doesn't feel anything. I get the feeling he always gets that kind of parts in dramas.
Wang Ji Won
Good Doctor, Some Kind of Goodbye
Is Oh Se Ryeong, the star of the shopping channel and Tae Yoon's ex girlfriend. She hates Joo Yeon but since they are both on that relationship the rivalry naturally disappears with time.
Park Hyo Joo
The Five, Punch, The Chaser
Is Lee Min Jung, a lonely woman that learns everything in her way towards maternity, how to deal with a man, how to take care of her job in the meantime. Her personality isn't too bad but she will change 180 degrees when she finds out about her twins coming.
Yoon Seung Ah
Panda & Hedgehog, Death Bell 2, Empire of Gold
Is Jung Hee Jae, the youngest of all three friends and the more inexperienced, but also the one that hasn't many fears when it comes to dating. She's easy going and really cute (well isn't she the cutest? hehe), her life will change when she starts looking where she never did before.
Park Yoo Hwan
Can't live without you, KPOP – The Ultimate Audition, A Thousand Days' Promise
Is Lee Woo Young the cute assistant that tries slowly to win Hee Jae's heart. He's really cute and caring but that's why the girl has never even looked at him.
Trust, future, happiness and resignation, there's a lot of things in line and sometimes emotions can trick us again just to go and make the same mistakes over and over again. I like the way they didn't point age gap issue like it was the end of the world, it was refreshing and…about time!
I think this third edition is more polished than its previous ones, I find characters more endearing tho all stories have been seen before, they are the ones that many people can relate to. Roles full of insecurities and trying to live their lives the best and happiest way possible.
About the way the drama was screened, the best were the photograph like scenes, to freeze moments and the contrast with the past images and memories was one of the best I've seen. Not that is something completely new, but in this case, since main characters shared so much history together, it made completely sense and helped fixing in our minds the intensity of scenes and of course, their meaning.
It was a cute lovely story that has its frustrating bits but it turns out we understand every action taken, not like in a long term evilness drama that we can't find any shelter to go cry a little. Tears came only by emotion and not sadness so it's a great romantic mature drama to enjoy bit by bit with the fantastic OST included.