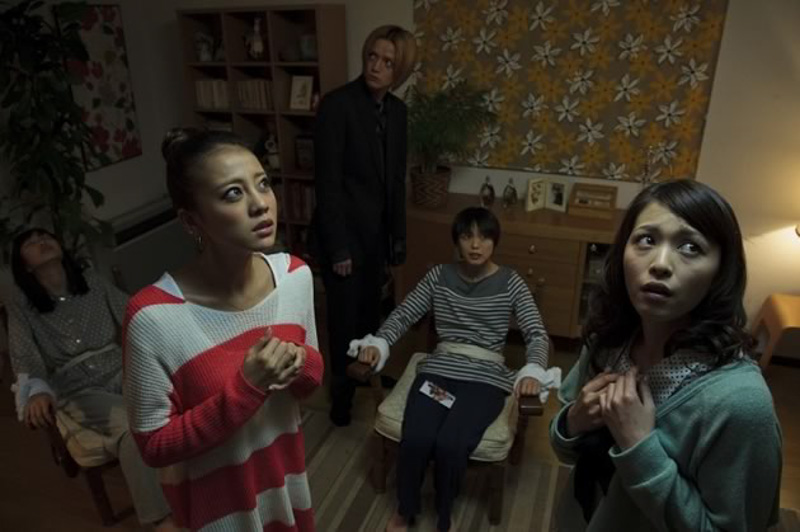 If you're a fan of Asian movies then you probably are also a fan of horror. Films like Cult gather fanatics from all over the world to finally get scared. Some of them, of course, are a complete disappointment, sadly. I still can't find what is it that scares people the most, for me is the idea that supernatural horrifying stuff could actually happen, but I think it works on a very subjective level.
I have to say in this case I jumped from my bed a couple of times. One thing that made me get involved with the story was the fact of energies rolling up and down without people noticing it might actually be happening at anyone's home.
I would never have thought anybody could actually get scared from a bumping tennis ball! Well I did, and I also got a little influenced by the ideas just because of the way the movie is filmed. Sadly, everything goes well until you see the ghost. Even tho it is really out of the ordinary, it completely crushes my emotions when you see it.
Don't go away yet, because not everything is lost. Unlike other horror movies the story got stronger after knowing the origin of the supernatural happenings. In the end we get the the feeling that we have are being shaken.
Synopsis of Cult
In order to become more popular three actresses get to star into a reality show. This TV show will broadcast videos from houses and places that are said to be haunted. In the progress they will find themselves at a house where a mother and a daughter are having a difficult time. They are dealing with a really strong supernatural activity and they are even influenced by its power.
They will have to take part in a cult in order to unravel the mystery. This procedure is extremely risky for everyone that witnesses it.
Starring Cult 2013
Actresses use their actual names in the movie. That fact brings the script a little closer to reality. There's also this way of filming. Even tho it isn't the first with hand-held camera (who could have forgotten The Blair Witch), I think it's a central point in its effectiveness.
There's this thing about being an expert watcher of horror movies, which I am not, I get scared easily, but if you are used to them well maybe it will feel funny at some parts or not so strong. For me it was an effective horror movie that could have been better but it got the job done.