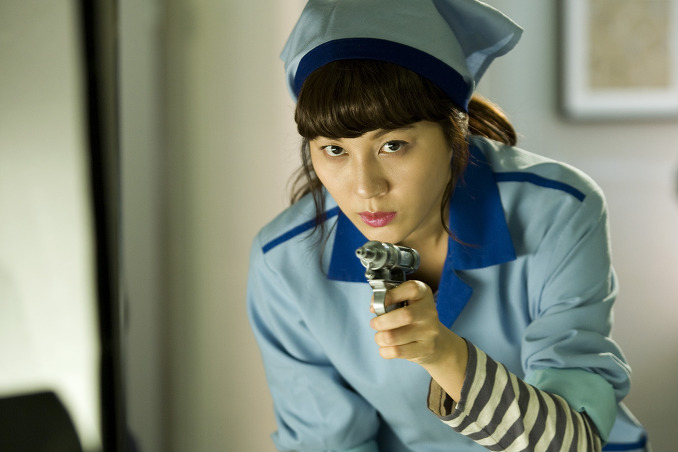 Having seen them together back in 2006 with their fantastic performances in 90 Days: Time to love, before even starting to watch the movie one can guess the chemistry is going to be the best. And although the chemistry between main leads is an important deal, the script will also do the part to make us enjoy almost an hour and a half of hilarious dialogues and situations in My Girlfriend is an Agent.
From Kang Ji Hwan I liked Runway Cop the most (apart from all his dramas, all but Big Man), and in the case of the lovely Kim Ha Neul, I really liked this movie of hers, I think became the best girl spy ever. xD
Synopsis of My girlfriend is an agent
The movie starts with a bride on the run, the problem, she's an undercover agent that needs to get the bad guys before its too late, and also have a romantic love life. Since nobody knows about her real job she pretends to be something that she's not, and her boyfriend has no idea about it. All he knows is that he lies a lot about what she's doing, and he thinks she's cheating on him
Because of that, and tired to wait, he leaves the country and leaves her, by a phone call, since she's in the middle of a chase she can't answer, so she will have to get a message that her boyfriend is breaking up with her. She runs to get him but it's too late.
Three years pass and he comes back to Korea, we discover he's actually a secret agent himself, and returns with a different attitude, a different hair cut and of course a different wardrobe.
After having suffered so much, they will meet again but will they be able to love each other with these many secrets between them?
Starring My Girlfriend is an Agent Korean Movie
Kang Ji Hwan (Incarnation of Money, Lie To Me, Coffee House) is Lee Jae Joon, an awkward man that feels his girlfriend is cheating on him. He left the country to pursue a secret agent career but being this clumsy can be fatal in a world of guns and danger. I think body language is Kang Ji Hwan's forte, also his facial expressions are out of the ordinary, and putting aside I'm a great fan of him, and even tho I liked Runway Cop more, this one is also a great performance.
Kim Ha Neul (A Gentleman's Dignity, Blind, Road Nº1) is Ahn Soo Ji, this spy lady that will do anything to get her job done, even if that costs her an important part of her life. Even tho lives a hidden life, she's really straightforward with her emotions and beliefs. A great performance from this versatile actress that can apparently portrait anything she wants nicely and smoothly.
Also starring in My Girlfriend is an Agent Korean Movie: Jang Yeong Nam & Ryoo Seung Ryong.
Action and comedy at its best, with great performances and a strong script, that will make you fall in love with the story and the characters in very few minutes after it begins.
There is a drama version of this movie that it's initially really similar but characters differ so much between both than it's like looking at two completely different stories. I recommend the movie AND the drama heartily, because they are both fun and great productions. And luckily you won't spoil one by watching the other so you can mix the order as you wish.