Time to review an oldie, Attic Cat. I think it's the first time I've done this here on Asian Movie Drama. The fact is that I had it on watch list since like forever but I finally finished it this week. On the good side, I watched it nonstop without feeling bored nor abandoning in the middle. If we take account of the time it's been since it aired, then we could have some wrong prejudice of it about the rhythm and such.
One of the things that amazed me the most was that except for fashion, mobile phones and quality of the recording, everything felt current, the story is endearing, and very similar to a ton we've seen after this one was a premiere. I know it doesn't bring anything new, but hey! This thing is 11 years old! Of course dramas used it for inspiration in many ways, many many ways.
Nice to go back to some clichés like removing the phone battery, rooftops, the suddenly living together on bad terms and the songs from that time, I could be sure (if I had watched more dramas from that time) that this one was the origin of everything that came after.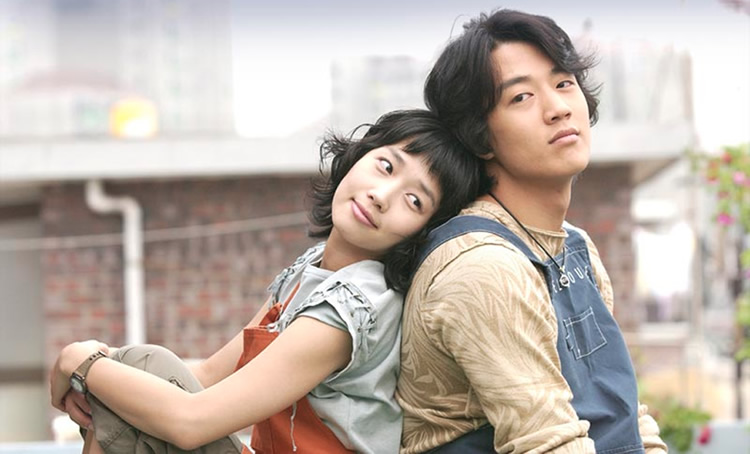 Synopsis of Attic Cat
The story speaks about a lazy bum kind of guy and a nice innocent lady. She needs to move out from her house and he, going after this girl's friend, lends her money to do so. That ends up with a debt that she needs to pay and when he gets kicked out of his house (since he was a lost case) he moves in with her. They both start living together in a tiny rooftop getting their feelings all mixed up.
Starring in Attic Cat 2003
Kim Rae Won (My Little Hero, Gangnam Blues, A Thousand Days' Promise) is Lee Kyung Min. A rich boy that is supposed to be studying for his bar exam. Instead he spends his time gambling, drinking and going out with women. He really needs to get a grip but it won't be until Jung Eun enters his life.
Jung Da Bin (He Was Cool, My 19 Year Old Sister in Law, A Typhoon in That Summer) plays Jung Eun. A sweet naive girl that falls for Kyung Min lies. In part because she is innocent and on the other side because she kinda falls in love with him at first sight. She's a responsible young girl but also can get on your nerves because of all the things she puts up with.
Also starring in Attic Cat
Choi Jung Yoon, Lee Hyun Woo, Bong Tae Gyu, Jang Yong & Kim Mu Saeng.
It would have been awesome to be able to watch it by that time. Even tho I didn't, it felt like a nice, warm story that was probably a shock for Korean society. The story depicts two grown ups sharing a room without getting married!! Hehe.
Of course it doesn't bring anything new to the table. Since we have seen so many dramas that came after this one. But it is a really nice trip to the past and I hope I find more jewels like this one. Well made, well written and taking out some bits of personalities that felt over the top, well performed.
If you're looking for a romantic oldie and you haven't seen this one I highly recommend it for you. I beg you to please ignore fashion we used to dress like that too. I wish I had a trailer but there wasn't even YouTube by the time this drama saw the light.