Okay so! Here we are after what it felt like a too short short shoooort drama. If I had one word to define it (luckily I don't) I would call it: wonderful. Some people might have found it strange since the age gap of leads was so big. But the way everything is mixed up in Witch's Romance is just fantastic and most of all, hilarious.
I have to state that I am a fan of this new wave that portraits older women going out with younger man. In this case that might have been a little too much. But on the good side I think actors did an awesome job at making all us fall for them and ship them like never before.
Soft, warm, romantic, fun and unpredictable. There was a lot in the plate for a drama that I had no idea it could give that much. If you haven't started watching it yet, well lucky you! it's finished! You can watch it nonstop, and I assure you, you will. There's no way you would be able to stop.
Synopsis of Witch's Romance
A 39 year old renowned journalist goes around being called The Witch. She's been through a lot and apparently her empathic side went down the drain. She tells whatever comes to mind and does not waste time trying to understand other people whatsoever. Mistreating everyone around her she goes trough life without any regrets. This is not because she doesn't commit wrongdoings but because she just does not seem to care.
One day she is out getting an exclusive with her assistant and she needs to make it back on time. For that purpose she steals a bike. Without realizing that it was supposed to be a prize for a group of kids that were waiting for Santa. When the man in the Santa suit sees this he chases her everywhere until he catches her. That will be the first encounter of many that will come from funny to emotional going through a great chemistry between them both.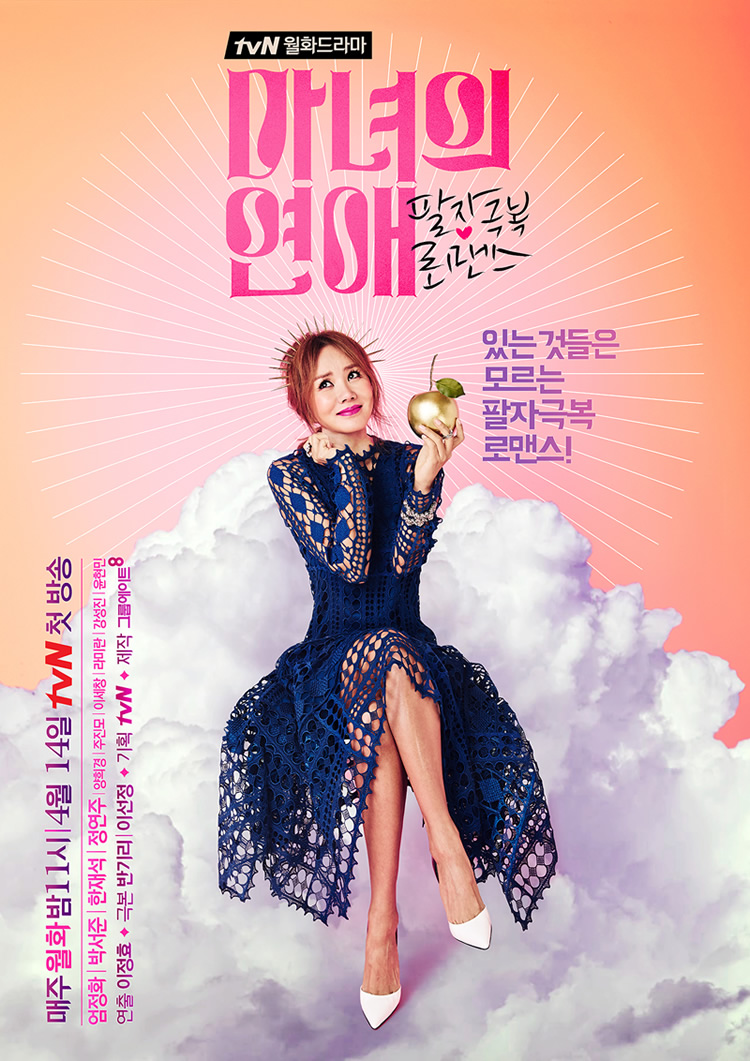 Starring in Witch's Romance 2014
Uhm Jung Hwa (Montage, Dancing Queen, He Who Can't Marry) is Ban Ji Yeon. A 39 year old experienced journalist that is Trouble Maker's magazine ace. She does anything to get her job done. Even getting herself dressed like a school girl and trespass an educational institution. She's a hardened woman who suffered a lot and still does. That's the reason why she mistreats everyone around her without letting nobody to break her hard shell. For me, Jung Hwa is the Empress of romantic comedy and she should do more dramas.
Park Seo Joon (One Warm Word, Perfect Game, I Summon You Gold!) is Yoon Dong Ha. The Master of Part Time Jobs, he quit medical school and now, with just 25 years old. He works at anything he pleases and apparently there is nothing he can't do. Charming, practical and always ready. He will be the one that breaks into Ji Yeon's strong fortress stealing brick by brick. Seo Joon is so charming that I need more dramas for him, please give him scripts! Nao!
Yang Hee Kyeong (Secret, Sunny, The Birth of a Family) plays Park Myung Ja, Ji Yeon's mother, she pushes her daughter to get married and does any kind of stuff from the well known marriage dates to arranging visits to a doubtful fortune teller. Her character switches from unbearable to lovely and sweet it will make you wanna hug her, believe me you're gonna love that woman.
Also starring in Witch's Romance
Ra Mi Ran (My Love My Bride, The Heirs, The Suspicious Housekeeper) is Baek Na Rae, the only friend Ji Yeon has left, she's sweet but strong and is totally in love with her husband to the point that it gets a little over the top, specially for Ji Yeon, who hates anything lovely. Her part was hilarious, specially when they remember how they used to be when they were in high school.
Jung Yeon Joo (Dream High 2, School 2013, Princess Aurora) is the "I can't stand her sweetness" Jung Eun Chae, she's Ji Yeon's intern at Trouble Maker but shares a painful past with Dong Ha too. Please, she can't be that cute!
Han Jae Suk (OhLaLa Couple!, Inmortal Classic, Sisters in Love) is No Shi Hoon, a world renowned photographer that used to be Ji Yeon's boyfriend but left her at the altar without any notice. He plays a part that is really similar to the one we saw in OhLaLa Couple (almost the same), but I won't say more about him because then I would be spoiling.
Yoon Hyun Min (Inspiring Generation, Cruel City, Still You) is Yong Soo Cheol, Dong Ha's best friend and protagonist of the most hilarious scenes.
Last but not least and I'm still leaving a whole bunch out, is the fantastic Joo Jin Mo (1958). A charismatic character that despite his age will steal one of the ladies heart with his deep voice and cool outfits and oh boy! Aren't they adorable?! (I don't have to spoil, I won't spoil *talks to herself*)
Conclusion of Witch's Romance
Characters change from the starting point towards the middle. Everyone that seemed like they were going to be a pain, they ended up being charming and endearing. ;aybe that's why I felt it was short and wanted to see more interaction from them. In the end I think the length was just perfect.
The chemistry is absolutely fantastic, dialogues are fun (some hilarious). It might have been a little draggy in the middle, but it was necessary to give depth to the script. The OST is wonderful and there are some scenes that can melt the iciest heart. I won't only recommend it, I command you to watch it, you won't regret it for a second! Best romantic comedy 2014 so far.