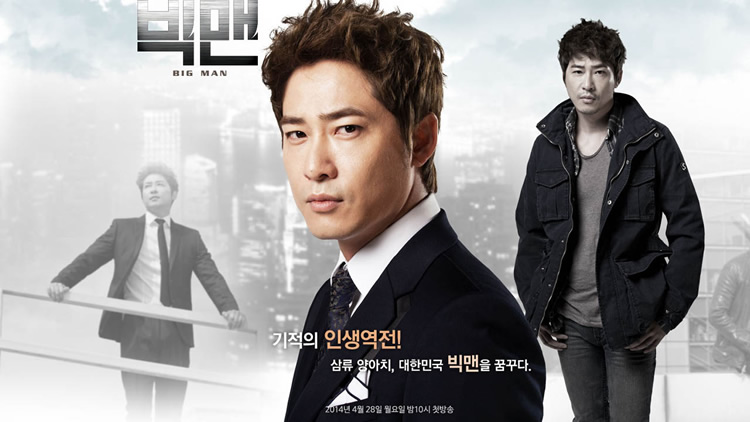 Ah well, one of the most disappointing highly expected Korean drama of the year, for me at least. After watching Ghost or even the oldie Baby Faced Beauty with Daniel Choi. Or any of Kang Ji Hwan dramas, and I mean, any of them. I have to admit that maybe my expectations for Big Man were too over the top.
Let's see, the storyline was not surprising at all after the first part of the story. That's where we get know the background of characters and what is actually going to happen in the script. It started as a mixture of hilarious and sad balance but then it just disappeared.
The rich nonsensical evilness, the poor nonsensical silliness. The series of wrongdoings one after the other that end up in…well mainly nothing. Maybe, if we're lucky, a vicious circle.
Almost all performances were awesome, almost! But in the end we're left with nothing but a bunch of gangster-like bosses. Also a predictable love story that has no depth. Maybe my frustration comes from what I imagined it would be. Since the script in my head was so much better (even tho it would have been predictable too). But at least we could have had some spice to it. The only deepness in this story was Daniel Choi and Kang Ji Hwan's performances. That's it.
I already wrote a synopsis when I quoted the trailer on a previous post, but they tend to change after watching the actual thing, so I'll do it again.
Synopsis of Big Man
A conglomerate CEO has suffered from a heart disease since birth. He already had a transplant but now after an accident he needs another to save his life. His girlfriend and also his secretary stays by him at all times, but his family doesn't even know about her. To get a new heart for this man, the family finds an orphan that luckily for them (and the writers) is a match. So in order to kill him and steal his heart they pose as his long lost parents.
He's softhearted, weird and loyal, reluctant at first because of all the years of abandonment. But he decides to give this strangers a chance. Almost all of them end up being a psycho parade.
They take him in as the new son and since their real son wouldn't give up before they can kill him. They make him the new CEO. When the real son wakes up, that's where the dance begins.
Starring in Big Man
Kang Ji Hwan
Incarnation of Money, Capital Scandal, Runway Cop
Is Ji Hyuk, a rustic man without any knowledge of business etiquette whatsoever. Instead he has a golden heart and is incapable of betraying the ones he loves. He will learn the game slowly and with a great amount of punches. And at last he gets the best out of every tragic and unfair situation he needs to face. I've stated I am Kang Ji Hwan's big fan, but I rather watch Incarnation of Money again or…well any of his previous dramas.
Daniel Choi
Baby Faced Beauty, Ghost, The Traffickers
Is Dong Suk, the sick man that has a weak heart. He's also pure evil and hates competition. Ambitious and jealous he won't give Ji Hyuk a chance to even get to know each other. Destroying this man is all he wants to do specially since he's a match for the transplant. When his parents start this sick game, he just continues it as soon as he woke up. His performance is not only amazing but he leaves a bitter taste of sadness every time he loses control of his temper. One of the greatest performances from him if not the best, too bad it was this script that achieved it.
Lee Da Hee
Secret, I Can Hear Your Voice, Welcome Rain to my Life
Is Secretary So Mi Ra, the biggest disappointment in the whole story. Not only because of her part, but because of her performance. She just looked as a frightened hare most of the drama. Didn't like her character, nor her acting, nothing, out of my promising actresses list.
Jung So Min
Can We Get Married?, Playful Kiss, Bad Guy
Is Dong Suk's real sister, Kang Jin Ah, a crazy rich girl. Also spoiled but with a good heart deep inside. She will loose it for Ji Hyuk after he suddenly kisses her. So she will be in shock with the new member of the family issue. For me, her part was a redemption. I won't say I love her acting, because I just couldn't stand her in any of her previous dramas, but she won my heart with this character and proved that I was mistaken. Nothing bad to say, I loved her here and I wish she was the main female lead. Her character was way more interesting.
This could have been an awesome drama with so little effort, for example, where did the real parents go?. Where did the childhood friendship of Secretary So and Dong Suk go? Where did her love go?
If Ji Hyuk was starting to have feelings for Jin Ah, and she first: never betrayed him and second, didn't try to kill him! where did that story go too?
There are many other things that were left out without resolution. Most of them would have been worth to know. Lastly, does Song Ok Suk have to shout and scream in every drama?!
There is no way I would recommend this drama if there were another list of actors involved. But since both leads are two of my favorites, maybe you will feel like I did, that I couldn't leave it out of my list. Anyways, as usual, is really up to you if you want to watch it.
Images: Asianwiki