A very original and fresh drama about romance between people over 40. Allow me to rephrase that, men over 40 that don't usually fall in love with women the same age. Nearly never do. If we are the ladies here then we might think this is a male chauvinist drama, if there are male readers then we would think you just found the drama for you. A Gentleman's Dignity will catch your attention either way.
Well, I have to disappoint you both, because this is a sweet, fun and really romantic comedy. It will make your emotions flow like a river with laugh and tears, really loud laugh and some serious thought tears I must say. And in the end it becomes the F4 are all grown up kinda drama.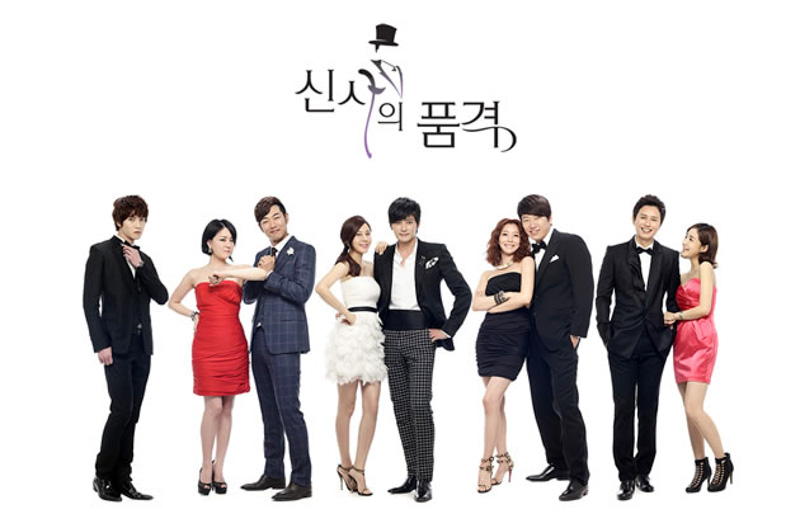 Synopsis of A Gentleman's Dignity
Four long time friends have reached their forties and start dealing with different states of singleness, a womanizer, a divorcee in construction, a single man and a widow, they have been together forever and know each other even without talking. After a fifth friend's death they start to rethink the way the have been living.
The particularity about this show is that all the stories evolve from the character's personality, the single falls in love, the divorcee finds love again, the one wanting to divorce finally gets kicked out and the widow happens to stumble into love without even wanting it. But for a better reference I'll introduce to the cast while marking all points that make this story unique and highly recommendable.
A Gentleman's Dignity 2012 Cast
Jang Dong Gun
All About Eve, My Way, Dangerous Liaisons
Is Kim Do Jin one of the main characters of this drama and the one that is still single and enjoying it, not because he dates a lot of women or anything like that, he enjoys the control he has of his own constructed life, loving his architect work and wouldn't be bothered to let a woman into his heart. That obviously changes when he instantly crushes into the beautiful Seo Yi Soo by getting a thread of her red wool dress stuck into his bag. One of the most memorable scenes ever.
Kim Ha Neul
Road Nº 1, 90 Days Time to Love, Dead Friend
Is Seo Yi Soo, a single high school teacher that has no character nor attitude to get respect from her students. Even tho she struggles at work she is a nice lady who enjoys playing baseball and waits for a love that is obviously not coming. She's completely naive when it comes to relationships and with that on one hand and the twisted personality of Do Jin, she will have hard times believing in what is love.
Kim Soo Ro
Ghost Sweepers, I Am King, Death Bell 2
Is Im Tae San, Do Jin's friend and also firm partner, he's in charge of the constructing directions and they're struggling to get into a big project leasing. Since they've known each other for a long time Yi Soo is secretly in love with him, but he wouldn't know, just because he's interested in her beautiful, world famous golfer friend, Sae Ra.
Kim Min Jong
Athena: Goddess of War, What Happened on Island?, A Man Called God
Is Choi Yoon, the widow and the lawyer, he will get all the rest out of troubles, just because they're like 10 year old sometimes. He's the most structured in life from all for, since he has been married he doesn't think about women the same way the rest do.
Lee Jong Hyuk
Dr. Kkang, Dating Agency: Cyrano, A Pig Like Woman
Is Lee Jung Rok, the flower boy, not because he actually is but that's what he thinks of himself. Of course his wife thinks otherwise and will make his life impossible just because she can.
There are also fantastic appearances from:
Yoon Se Ah, Tae San's impossible love and Si Yoon's friend.
Kim Jung Nan, Jung Rok's wife and the one that puts everything in order, because she can. Haha I really loved her.
Yoon Jin Yi, Tae San's daughter who's absolutely in love with his father's friend Choi Yoon.
Lee Jong Hyun, I can't say who he is without spoiling. He did a good job, although his songs were my favorite part.
Kim Woo Bin, a troublemaker (when not?) that is also Si Yoon's student and will play an important part on her life.
Conclusion of A Gentleman's Dignity
The drama is great, full of really funny moments that will make your cheeks hurt. Also with some serious thinking about marriage at older ages. It is about the way that even tho you think your life is in order, there's always something that can shake it up. Great OST, beautiful scenes and a full load of cameos. Highly recommended!