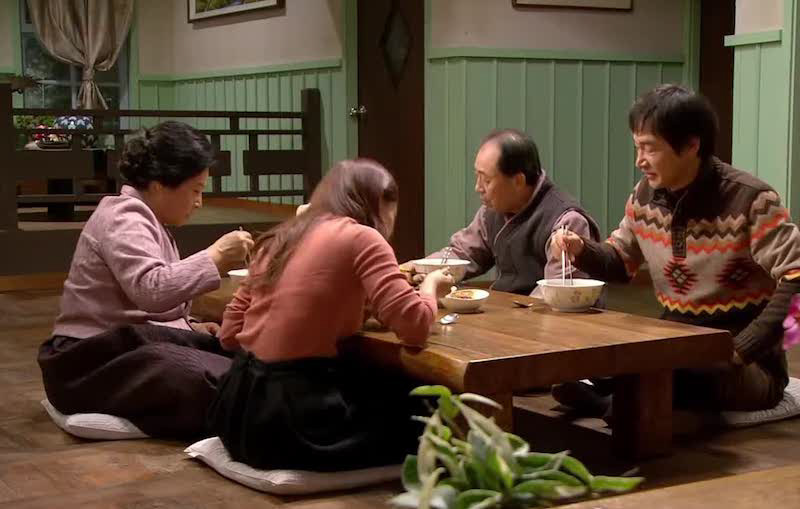 There are dramas that are smooth even tho they make you suffer. And there are others, like Hundred Years Inheritance in which you want half of the cast to die. Unfairness, stupidity and pure nonsense evilness, that's all you are going to find inside this really long story.
I'm not a big fan of long dramas (except a very few amount like Smile You, Hong Gil Dong or until now, Empress Ki). Specially when I realize that it could have been way better if it was shorter. That is so that situations don't repeat over and over again.
Synopsis of Hundred Years Inheritance
Min Chae Won, an abused daughter in law of a rich family decides to divorce her really childish mamma's boy husband. Her mother in law is one of the biggest witches on earth and separation becomes more of an obligation than a decision. When this situation is going to be out for the shareholders to know, the ahjumma decides she doesn't want anyone to know. To achieve this she interns the young lady in a psychiatric institution just because…well because she can.
Desperate and trying to scape from this situation, Chae Won contacts a stranger. He first thinks she's actually crazy, but then they meet again. There he becomes her savior in a short amount of time. Their destinies are more than crossed, more than we could never imaging. This man is actually her ex sister in law's sunbae and her marriage prospect.
When the story continues we will find out that families get a little more connected that we thought. That storyline itself was enough to get the things going. But they had to add some nonsense evilness and malefic plans. This is obviously just to hurt people that tries to live their lives without hurting anyone. This wrongdoings come over and over again to the point that we can't stand it anymore.
Starring in Hundred Years Inheritance
Eugene
Baker King Kim Tak Goo, Love Truly, Can We Love
Is Min Chae Won, a nice family nutritionist that becomes abused physically and psychically by her mother in law. She never asks for help but ends up needing it all the time just because apparently her ex husband's family won't leave her alone.
Lee Jung Jin
Pieta, Two Outs in the Ninth Inning, Love on Air
Is Lee Se Yoon, a chaebol that emigrated to America because his mother wouldn't approve his relationship with a girl. He meets Chae Won in the worst circumstances but they soon become close.
Choi Won Young
Love in Memory, Plan Man, The Heirs
Is Kim Chul Kyu, the big mamma's boy that won't stand for himself, he's obnoxious, greedy, selfish and childish, if you look for a definition on what not to be as a man (or a human being) he should be it. He's an awesome actor, if you have only seen him in The Heirs, you should definitely watch something else, it was a real waste over there.
Yoon Ah Jung
Empress Ki, Ice Adonis, City of Glass
Is Kim Joo Ri, if Chul Kyu is like that, we can't wait anything different from her sister. Her character was really evil and insufferable, but the thing I didn't like the most about her was her acting.
Park Won Suk
Golden Rainbow, Three Sisters, Bachelor's Vegetable Store
Is Bang Young Ja, the evil mother of these too and the one who makes everything happen. I have seen her many times in this type of character, she's the most evil of them all mother's in law, and I think she did a great job.
Cha Hwa Yeon
Five Fingers, I Miss You, Queen of Ambition
Is Baek Sul Joo, Se Yoon's mother, and the one with the greatest secrets. She looks like a really nice lady but she's actually hiding her true nature so her son doesn't run away again. This actress is always awesome, it doesn't matter what part she plays, I can't get enough of her characters.
Jeon In Hwa
Feast of the Gods, Baker King Kim Tak Goo, Again My Love
Is Yang Choo Hee, a mysterious lady that came back from America after a long time. She ends up meeting everyone and becoming really important to the whole story. Her acting is just supreme, just like Baker King's, tho I really hated her over there, and here well it is a complete different story. I wish she would ask more.
Rest of the cast is really big so you will have to discover it by yourself:
Shin Goo is Uhm Paeng Dal, Chae Won's grandfather.
Jung Hye Sun is Kim Kkeut Soon, Chae Won's Grandmother.
Jung Bo Suk Min Hyo Dong, Chae Won's father.
Kim Myeong Su is Uhm Ki Moon, Uhm's middle son.
Park Jun Keum is Do Do Hee, Ki Moon's wife.
Seo Young Hoon is Uhm Seul Hong, Ki Moon and Do Hee's son.
Kwon Oh Jung is Uhm Ki Choon, Uhm's youngest son.
Kim Hee Jung is Kong Kang Sook, Ki Choon's wife.
Sun Woo Sun is Uhm Ki Ok, Uhm's youngest daughter.
Park Young Gyu is Kang Jin, an stranger haha xD actually, he becomes everyone's friend and he's in charge of most of the hilarious stuff. Always effective!
Nam Myung Ryul is Lee Dong Kyu, Se Yoon's father.
Conclusion
In this drama evil is way too evil and good is too dumb to stand for itself, the story has its great moments, but in general, it looses impact just because it's like a vicious circle. A great thing about this drama is the evolution of some of the characters, one person will go through a mutation that turns them into a complete different person due to circumstances. That with the complex family story is this drama's forte. Watch it if you're used to long dramas, if not you're gonna get anxiety issues from it. 😉