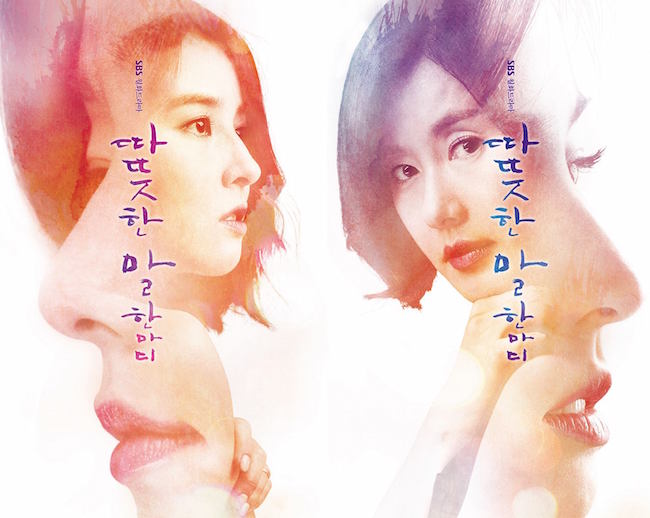 There are many things that may get your attention from this drama, specially if you enjoy realistic melodrama in which you don't have clear overwhelming evilness, but pure human nature and the troubles that come between marriages and adult relationships.
The clear thing is that everyone makes mistakes and anyone can have a bad relationship in their lives, but to what extend are they willing to fight for what they think is worth it. These drama is also known as "A Word From Warm Heart" and it describes perfectly the main theme of the whole story.
Couples that have forgotten how to be gentle with each other, and only focus in their own needs without even stop to thinking how does the person that lives by their side feels. Mature and realistic situations, although you might think some of the characters have a huge amount of bad luck, but you will have to get to that point first.
Synopsis of One Warm Word Korean Drama
The story will center in the lives of two families that share an ill fate. Na Eun Jin and Kim Sung Soo are one of the married couples going through a big crisis when Eun Jin finds out her husband is having an affair. On the other hand, Yoo Jae Hak and Song Mi Kyung, have been together for a long time and they feel like strangers.
A traffic accident will reveal that nothing is like it seems, since Eun Jin and Jae Hak have had an affair in the past and someone knows about it. Both families will start to crumble with this truth that is bigger than they can even imagine. Guilty feelings, hard decisions, love and hate will unravel an interesting plot with down to earth situations.
Starring in One Warm Word Korean Drama
Han Hye Jin
Be Strong Geum Soon!, The Thorn Birds, Syndrome
Is Na Eun Jin, this woman that thought her secret was safe but discovers that her cheating husband is about to learn the truth from an incident cause by someone close to her lover's family. She loses her tools to demand love from her husband so the story switches from one place to another. She's used to play dramatic roles, I don't particularly like her way of delivering, and this time it wasn't the exception.
Ji Jin Hee
Blood, The Great Seer, Take Care of Us Captain
Is Yoo Jae Hak, a successful businessman that runs a company and doesn't have time to deal with his wife's demands but he does have time to have an affair with Eun Jin. He's a cold character that will have to learn a lot through this journey when his wife discovers the truth. Another great job from this talented actor.
Kim Ji Su
Gangnam Blues, Sisters in Love, Love Again
Is Song Mi Kyung, a devoted wife that has been psychologically abused by her mother-in-law for years. Lives trying to fulfill all her demands. Tired and with a cold hearted husband that never pays attention to her, she discovers he had an affair and decides to approach Eun Jin as a friend without revealing her true identity at first. A great and hard role for this talented actress, she was my favorite here.
Lee Sang Woo
Feast of the Gods, Glorious Day, Goddess of Marriage
Is Kim Sung Soo, Eun Jin's husband. He spends his time and money dating other women and she discovers it. He will be in the spot until his wife's affair is discovered. By then, everything changes. He always delivers what's needed but nothing else.
Also starring in A Warm Word Korean Drama: Yun Ju Sang, Ko Du Shim, Yun Jong Hwa, Yoon Joo Hee, Han Groo, Lee Chae Mi, Yang On Yoo, Park Jung Soo, Park Seo Joon, Choi Hwa Jung, Son Hwa Ryeong, Kim Hye Na & Sung Byoung Sook.
Conclusions of A Warm Word
If you enjoy love affair dramas, then this one is one of the best I've seen. With the setup completely focused in the facts and not beating around the bush with unclear situations. What I liked the most of it is that almost all characters are straight forward. That, in these kind of situations, is the best anyone can be. There is suffering, unfairness and several unexplained attitudes. In the end, we learn, that everyone is human.