I had great expectations of this drama, just because I'm a big fan of Lee Bum Soo's works, he tends to pick his roles smartly and I end up enjoying the entire show. I have to say tho, that most of his parts are comedy friendly and that's what I think suits him the best. Unfortunately this isn't the case in Prime Minister and I. But let's see what this show is about so I can explain myself.
I've said before that I didn't like dramas about politics and although I've highly enjoyed City Hall and All About My Romance, this one is probably not among those favorites, not because of the cast just because I think it was too boring to be a comedy and too light to be a melodrama. Staying in the middle is never a good choice. And although the whole story is one of those originalities we will find in the genre, I think it deflated from excitement to boringness in the last episodes (maybe a little more than that).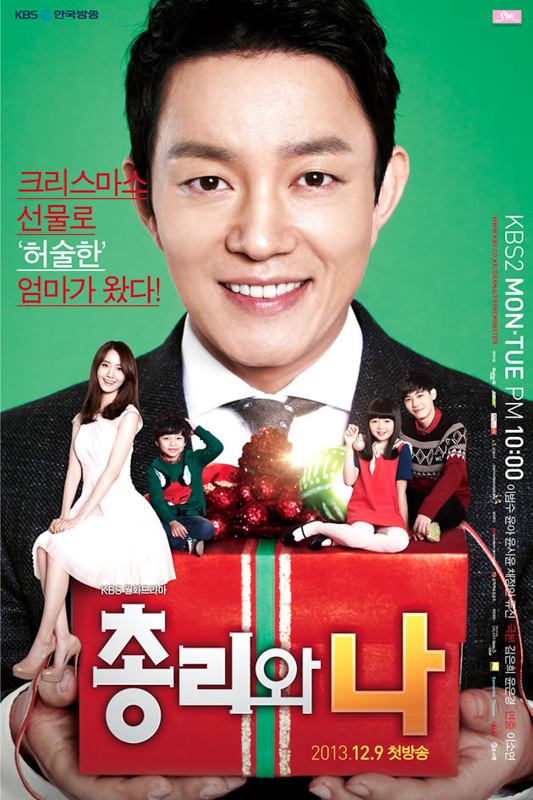 Synopsis of Prime Minister and I
The Prime Minister, Kwon Yul, is a widow well known for his serious character and fair judgement, he's now turning 42 and with three kids, still single, everyone is telling him he should remarry. Without any intentions of doing so, he meets the charming and carefree Nam Da Jung, she works as a gossip journalist and is nosy as a few.
Being seen together with all the misunderstandings that could possible happen they can't scape media and decide to elaborate a contract marriage. In his case was to save up his political career and from her part she needed money to take care of his mentally ill father.
She moves into his house and turns his and his children's life upside down. She will have a hard time taking care of them. Trying to get them to bond as a family since they had almost no relationship to start with.
Starring in Prime Minister and I 2013
Lee Bum Soo
Over My Dead Body, History of the Salaryman, Giant
Is Kwon Yul, Korea's Prime Minister, a tough man that won't hesitate to deal with the heaviest politicians around to try to make things right. He's a workaholic and has no interest in his kids since he lost his wife he devoted himself to his work and that was it. It was a great performance as usual but I think he wasn't feeling his character like he usually does, maybe because the PM was a boring fellow to start with and the part had to be carried on like that, but it wasn't my favorite of him.
Im Yoon Ah
Love Rain, Cinderella Man, You're my destiny
Is Nam Da Jung a careless journalist that spends her time chasing celebrities. She works in a small magazine but still devoted herself to her work. Getting in trouble everyday is how she gets involved with the Prime Minister. It is a great performance from her. I enjoyed it way more than her Love Rain role. But I guess that as the script deflated towards the end, her charm also disappeared. The first part of the drama she's just hilarious and shouldn't be missed.
Yoon Si Yoon
Baker King Kim Tak Goo, Flower Boy Neighbor, Happy Noodle
Is Chief Kang In Ho, Prime Minister's mysterious assistant. He's really efficient in his job but from the start we know he's hiding something. He gets really close to Da Jung and becomes her guardian angel. Although he starts as an evil character his devotion to Na Jung shows the best of him and becomes endearing. It's the first time I see Si Yoon playing the bad guy in a drama and hey! he should have more parts like that! Great job as usual.
Chae Jung Ahn
When a man loves, Queen of Reversals, Hot Blood
Is Secretary Seo Hye Joo, an extremely efficient woman that is in charge of the Prime Minister's image and agenda. She's a solemn character that is over attentive to everything that goes on. She might seem though and she has some emotional issues. Specially with Yul's ex brother-in-law that used to be very close to her.
Ryu Jin
Baby Faced Beauty, I Really Really Like You, Standby
Is Park Jun Ki, Yul's ex brother-in-law and the one blaming him for his sister's death. He's also into politics and he tries all kinds of dirty games to bring Kwon Yul down.
Conclusion
I can't say I enjoyed it from beginning to end. At first it seems like a great drama that would be memorable. But in the end it turns out to be a really sad and hurtful one. I would recommend it to you if you don't have anything else to watch. Although it has some great bits over all, it's just heartbreaking with the usual cliches. If you do watch it I'm pretty sure you won't regret it completely.