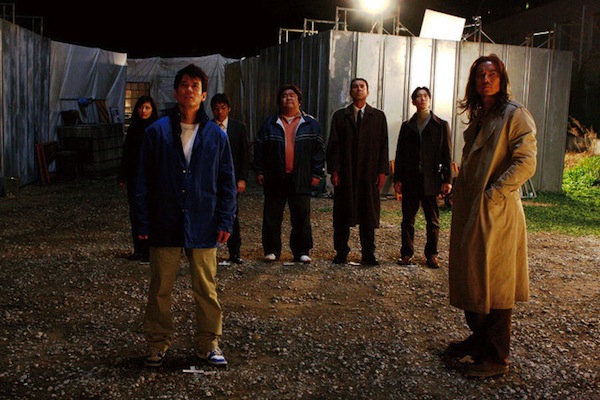 Maybe I should have read the manga first. So I completely understand what was going on from the beginning. On the other hand I think I did good to let me be surprised by it completely. I would like to review each movie by itself, but there's a cohesion and a continuity that I think should be respected as a whole. 20th Century boys is a movie about an apparent kid's game that goes out of control.
Love, peace, friendship, there is a wacky feeling everywhere. And there is also this sense of frightening truth and drama that overflows everything that happens. It's clear that this movies don't cover up all the story that exists in the manga. But it's a great result if we look at the big picture. And maybe a starting point for those that haven't read the complete story to start doing so.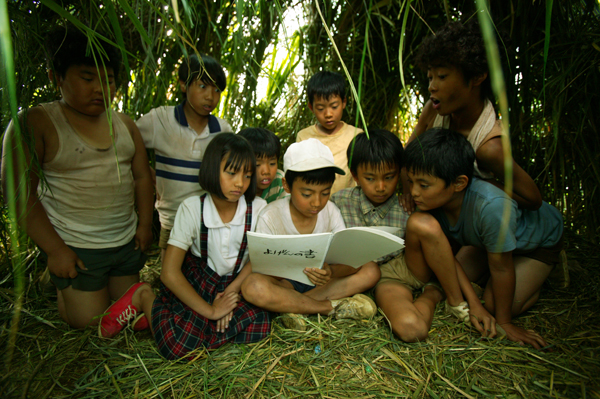 Synopsis of 20th Century boys
Kenji Endo is the main character of this story. He lives in Tokyo with his mother and Kana, his baby nephew, whom her mother left before disappearing. Kenji is a simple man, he works as a manager in a supermarket and one day he attends a childhood friend's funeral. Over there several school friends gather together, to realize that Donkey, the school mate that died, isn't the only death that took place in the last months.
Apart from the deaths, an strange symbol starts appearing near the places that the bodies are found. A symbol that Kenji and his friends created when they were little as a game. This game included a secret base that suddenly starts becoming real in their present time. The person behind this calls himself Friend, a mysterious leader that starts a sect and promises to make this childish ideas come to life.
Kenji and his friends swore to defend the peace and justice in their world if ever being threatened. However, everyone is seeing how the predictions that they made when they were kids, start becoming real. Their worst fear will arrive, when they remember the 2000 Bloody New Year's Eve, in which the planet will be endangered.
Starring in 20th Century Boys
The cast list is really extensive, just like it's the amount of characters in the manga. So I'll cut it there.
The dark side of the story is supported by the ludic dynamic that it portraits. This generates a greater impact of the dramatic moments. Also a complete surprise from the spectator point of view. You will find yourself reflecting on several situations that are going on in our present world.
Ethics in professionals and politics are childishly put into question as a way of mocking the whole situation. Also there's a showcase of fascist government techniques put into the center of attention. The lectures, the movement followers, the leader, and also the walls to prevent anyone or anything from exiting. It's a marvelous script when you understand that there's more than it meets the eye. A great critique to society as a whole.
The OST, specially during some important moments of the scenes is quite great. It ads this familiar friendly flavor to the frames that conforms the whole essence of the film. There's a special way to draw attention by strident noises that is really noticeable. There's also some Ghost in the Shell music references that caught up my attention.
20th Century boys depicts fascism as silly and dangerous as a kid's game, which I think it's one of tis strengths. You can decide to watch them one by one. But I highly recommend a marathon. Although you have to know that the 3rd one is quite slow in comparison with the first two. They all have their own value.
Images: AsianWiki