Movies with animals take me to hard places. In this movie, the whole script is a little mysterious in this subject, but I tend to escape them. Now I can tell you that Howling has to be seen. There are scenes that will make you jump from your seat. And others that will leave you wondering, how do they do it?
A long time ago, movies like Cujo could scare us a lot. That times are long gone. Okay, if I'm being true to myself, I have to say that if that script wasn't written by Stephen King, I hardly think it could have been such a success, or seen by that many people. Blockbuster movies with animals, are really odd for me and I hardly watch them. And there aren't many that catch my attention, Grizzly Man or Life of Pi, maybe. I started watching Howling with distrust, I love doing that, because if the film turns out to be good, then I'm wonderfully surprised.
But enough about words about other productions that have nothing to do with this movie. Let's move to the script.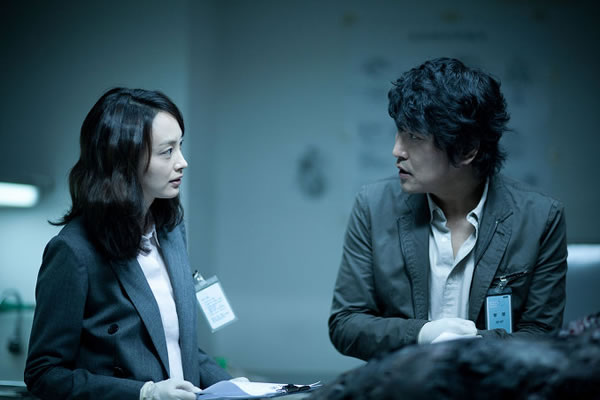 Synopsis of Howling
A series of murders are taking place at Mapo District, in Seoul. The targets are drug dealers whom the police are following. The deaths that happen are strangely out of the ordinary, the first one it's an apparent suicide of a man that lights himself on fire inside his car. But this ends up being something completely different.
All of them present a wound that might be similar to a wolf's bite among other injuries. This takes the investigators to uncommon paths.
Starring in Howling
Song Kang Ho
Thirst, Day Trip, Snowpiercer
He plays detective Jo Sang Gil, a detective who is also a single father and he's in need of a team exchange. Sadly for him, his new partner is a rookie female detective. Him being an old dog, doesn't help. Since he doesn't like changes, so we might think that they won't get along with this situation quietly.
Lee Na Young
Ireland, High Kick 2, The Fugitive Plan B
She's Cha Eun Young, the only female detective in the department. She doesn't get along with her new partner, and really wants to succeed in a case. Although she's a rookie and the actual investigation is really complex. On the other hand, she will work her way through this intricate story and will become the center of the scene.
Conclusions of Howling
To be honest I had no faith in it. But it is a great surprise, it has an excellent cast, a nice script and the way of filming is impeccable. There's an unexpected star that you will have to discover by yourselves. The only information that I will leave you with is that it's not human. I'm still amazed by the way it is filmed and I have no idea how they managed to do such scenes. I recommend it, even if you don't like the genre, give it a chance. You won't regret it!
I'm still waiting for Netflix to air these movies, I think there's a lot of good material here to explore. But well, I know you know where to find them. 😊