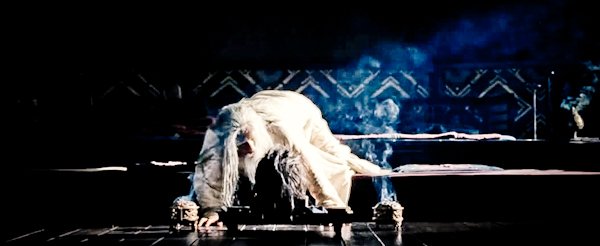 If I'm being honest, I have seen so little of Chinese cinema. And my knowledge about their history is so vague, that I probably ended up missing several parts of it. On the other hand, The Last Supper is just perfect. One of Lu Chuan's masterpieces.
I wouldn't enjoy you to miss this fantastic production because of my poor review, so I will just try to tell you what I understood about the story and I would love that you add anything you think I'm missing. I might need help this time.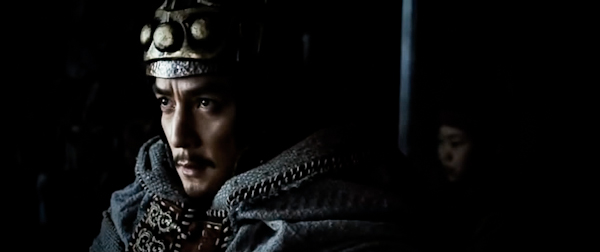 The Last Supper Highlights
Before starting, I would like to highlight the frame composition in the scenes. Each and every one of them displays an exceptional solemnity as if we're staring at a work of art. Until now, I hadn't seen such spectacularity, and I regret not being able to watch it on the big screen. There're probably way more details than the ones that can be seen on a TV.
Despite all that, it became a favorite from the aesthetics point of view. It's just absolutely fantastic. Architecture plays a main role during the whole film since the frame cuts are uncomfortably perfect.
It also makes great use of semiotics in the narrative, which ads to the whole film a gentle delicacy despite the crude images and situations. This obligates the viewer to pay constant attention to details. For foreigners, it might be a little troublesome, especially because dialogues are quite long and they include important information about the intricate story.
If you get caught up in the images (as it happened to me) you might lose important facts in the way. This could be solved by watching it dubbed, but we all know the finished product is not the same.
Synopsis of The Last Supper
Emperor Liu Bang, whom who starts the Han Dynasty, is now a sick old man. He starts his chronicle about how he achieved everything he ever wanted since he was young. In the meantime, he suffers from terrible nightmares where he's being betrayed by his most reliable men. To ensure this wouldn't happen in reality, he decides to eliminate everyone that could become 'problematic' to ensure the continuity of the Kingdom.
This ideas or nightmares, that happen inside his head, aren't created just by his imagination. The Empress, his wife, will have a lot to do with it. She's not willing to lose power, knowing her husband has not much time left.
Driven by the fear of losing his power, the Emperor offers a nice view of his life since he was young. The dreams of becoming powerful, his early humble and rough beginnings. And the way he finally achieves everything he dreamt of. The story goes back and forth constantly, it's like a dance that will be revealing many situations and creating new ones.
This rhythm in the narrative builds up the characters with sublime delicacy.
Stories about treason, love, intrigue, and power, dancing in perfect harmony with frames, choreographies, and majestic performances. They provoke the spectator to submerge into this poetic, shuddering with the images and the meaning of the narrative.
It's a great way of seeing how the story is written, and the responsibility of those in charge of doing so, to be faithful to the facts and not to the governor's fantasies.
The Last Supper frame gallery
The Last Supper cast
YE LIU
The Monkey King, A Beautiful Life, The Founding of a Party
He's in charge of portraying Emperor Liu Bang. We will see him performing different ages and in each one of them, he excels. The way he moves changes over the years, due to aging, and this is particularly well done. Also, the ambition in his eyes will differ from his youth to his late years. Impeccable labor, and although this could be redundant to say, the whole cast is exceptional.
DANIEL WU
Blood Brothers, The Shinjuku Incident, Tai Chi 0
He'll be Xiang Yu, one of Liu's men. He'll be his right hand and as a natural heir with noble blood, Liu admires him. They join forces to defeat the Qin and is naturally idealist. His wish is to divide Qin's Kingdom to create plurality in thoughts and languages. When Liu enters the Qin's Forbidden Palace, the ambition takes over him and all the peace and alliance ideas are destroyed. The trust they once shared is also broken. Once this happens, the Hong Gate Feast takes place. This event is well known because is the moment that will mark the destiny of the first Emperor of the Han Dynasty.
CHEN CHANG
The Grandmaster, Red Cliff, When Yesterday Comes
He'll be the third warrior, Han Xin. And will be a General that will blindly follow Liu Bang, partly because of his admiration, and on the other hand due to conviction. Everything will change, in time.
LAN QIN
City of Life and Death, Mr. And Mrs. Single, Looking for Jackie
She's going to play Liu Bang's wife, the Empress Lü Zhi. She's a woman that has suffered a lot in the enemies hands, also because of her husband. She has to deal with many deceptions and will bear everything to stand behind the Emperor. Cleaning his path and advising him. A majestic performance.
Conclusions of The Last Supper
Is an impeccable movie from every point of view. If you either like the epic genre or historical or maybe if you just enjoy beautiful compositions and aesthetics. It might be a little slow, but I think that it's interesting enough to be worth it.