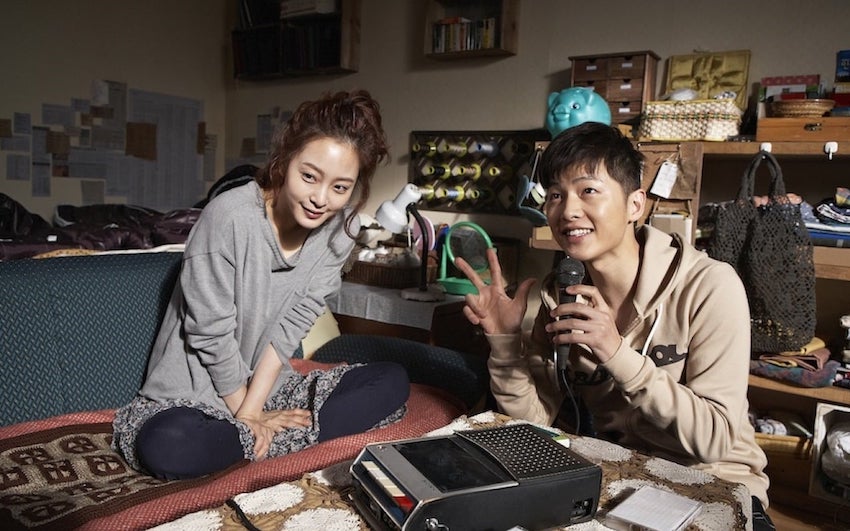 It's been a long time since I wanted to watch Penny Pinchers. I finally made sometime among the long, long list of dramas and movies to be able to. A small story that, if I have to be objective, well is not that good.
After watching Song Joong Ki in memorable parts like Kang Ma Ru in Nice Guy, or the unforgettable Werewolf Boy, the charismatic Ku Yong Ha in Sungkyunkwan Scandal. I have to confess that even if there are funny moments, in general, the story is really linear, without many surprises. So he couldn't shine like he usually does.
On the other hand, Han Ye Seul, who is really multifaceted when it comes to her roles. We have seen her in melodramas like 'Will it snow for Christmas?' or tragic comedies like 'Couple or Trouble' doing a great job.
I really think the story doesn't help anyone here. As I told you before, it hasn't many surprises. The narrative will let you know in advance what's going to happen. If you're used to watching dramas and movies, then you'll feel the same.
Synopsis of Penny Pinchers
Two characters obsessed with money, because of the mere fact that they don't have it. Will become partners in order to achieve their financial dreams. They have opposite ways of living and that will make them collide.
Chun Ji Woong is an unemployed college graduate who continually fails job interviews and lives off an allowance from his mother, who runs a small restaurant in the countryside. Ji Woong is an eternal optimist, but having no money is cramping his dating life when he can't even afford to buy a pack of condoms. Yet despite living in a tiny, dingy apartment in a low-income neighborhood, he's about to get evicted when his mother abruptly cuts him off and he can't pay the rent.

Gu Hong Sil lives in the apartment opposite Ji Woong's. Hong Sil is extremely frugal; she collects then sells recyclables, rummages through abandoned homes, steals sugar from coffee shops, and will walk anywhere within 10 kilometers (6.2 miles) to save on bus fare. She denounces all activities that involve wasting money, such as going to church and the hospital and even dating. Romance is the last thing on Hong Sil's mind, she considers it a luxury and an unnecessary frivolity.

Hong Sil's favorite hobby is depositing her savings at the bank, but her plans are brought to a screeching halt when she learns that she needs a separate bank account under someone else's name to reach her goal of ₩200 million (US$200, 000). So she tells Ji Woong that she'll teach him the art of penny-pinching and include him in a short-term moneymaking scheme if he follows whatever she tells him to do for the next two months.
Source: Wikipedia
Starring in Penny Pinchers
Conclusions of Penny Pinchers
I still find the movie pleasant to watch. Both actors lead their roles impecably, like they're used to. The movie in general has no loose links and it has some funny and cute moments. We all love those. I recommend it to watch with popcorn, but don't wait for it to change your life.