Okay so, it's been like two years since Roaring Currents was promoted as an upcoming production. As a fan of Choi Min Sik and almost all movies he has ever made, I have to admit that the time was too long to handle and way too much worth it. Luckily!
Although I waited for it for a long time, and even tho I didn't want to let my expectations rise. I usually can't help it. Specially with epic movies. Keep telling to myself, this movie's budget is too low, it might be bad CG. Also that story might be good and epic, but it may fail in overly done special effects. I was wrong, so wrong…and wrong again.
The Admiral: Roaring Currents is the perfect example that they can make an incredibly good production with a 10th (or even less) of the budget. Hollywood wastes so much in looping CG and almost identical scenarios throughout the movies. So okay, you need two epic actors, check. Well made effects in the right amount, check. And an amazing story that might have some fantasy add-ons but in return it becomes absolutely entertaining. You got it.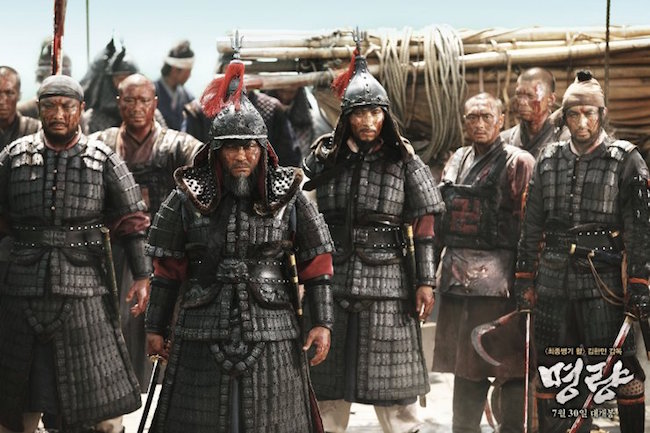 Synopsis of The Admiral: Roaring Currents
The movie depicts one of Yi Soon Shin's real life battles. Also known as Battle of Myeongnyang. It took place at the Myeongnyang Strait against the Toyotomi Hideyoshi's fleet which held nearly 200 ships. Yi Soon Shin's only had a 13 ships known as panokseon, and went to battle knowing that they might lose everything.
This story is a tale about that epic battle between not only man power but strategy as well. And also the human side of a character that has changed the Korean history for good.
Starring in Roaring Currents Korean Movie
Choi Min Sik (Old Boy, I Saw the Devil, The Quiet Family) is Admiral Yi Soon Shin. With another great performance, surpasses any expectation possible.
Ryoo Seung Ryong (All About My Wife, The Target, War of Arrows) is Admiral Gurujima. Evilly portrait as expected, since he's on the bad side, but perfectly executed as a cold strategist.
Also starring in Roaring Currents Korean Movie: Cho Jin Woong, Jin Goo, Lee Jung Hyun, Kwon Yool, Kim Myung Gon, No Min Woo, Kim Tae Hoon, Ryohei Otani & Park Bo Gum.
The way the whole movie is filmed and directed, is absolutely great. Its paragon with the pictures and statues that we are able to see in books and drawings from that time, is perfect. Also the use of special effects, in its perfect amount and with great efficiency. The whole story becomes an epic movie with everything that has to have. That, still holding to a principles tale and the inner side of this Korean legend, as Yi Soon Shin actually was.
This movie is not only recommendable, if you haven't seen it and you love epic movies, what are you waiting for?! 😉