You might think that I only talk about movies that I like, but no. There are many times that I find movies that are not even close to great. The only thing is that I take longer to write the reviews because I don't think it's helpful.
This movie in particular, generated great expectations and hype back when it appeared. In this case, even tho I'm a great fan of the actors in the cast. And that I have mostly loved their past performances in dramas and movies, reality is that this film is not great at all. In my opinion it was made to show famous idols and the script was sadly left behind.
I added it to the action category, although it has very little of it. I'm also a great fan of rain action cuts, but this time, I didn't enjoy it at all or even saw the need of it.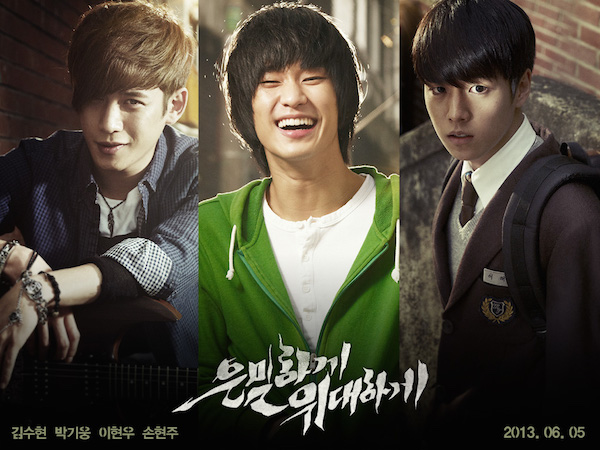 Synopsis of Secretly Greatly Korean Movie
Bang Dong Gu is a North Korean spy that spends his life acting as a the town's fool for years. He's actually waiting for his instructions on a mission that doesn't know anything of. He spends his life being treated as a slow kid, baring with neighbor abuses.
Dong Gu, whose real name is Won Ryu Hwan is a killing machine that has been trained since he was a child to take care of his superior's business without even thinking about it. That's the reason that he's fulfilling this undercover mission perfectly.
He will meet other spies in his same situations. Although none of them can trust each other. They don't know what mission is being executed next, and they know they're disposable.
Starring in Secretly Greatly Korean Movie
Kim Soo Hyun (Dream High, The Thieves, The Moon that Embraces The Sun) is Dong Gu. A silly boy that hides an assassin inside. Waiting for instructions to act. The part is perfectly played by Soo Hyun, as he usually does, but is the entire movie that is lacking.
Park Ki Woong (Bridal Mask, Full House Take 2, The Musical) is Lee Hae Rang. Another awaiting undercover spy. When they meet, they will remember their times together in the North. Think about how their hopes and wishes have changed since they arrived. Ki Woong is one of the most talented actors I've ever seen. But in this case, his character feels superfluous.
Lee Hyun Woo (To the Beautiful You, Master of Study, G-Love) is Ri Hae Jin. The youngest of the three spies. He happens to be waiting for his mission to start too. As the previous two, his part was greatly performed, but hollow as well.
Son Hyun Joo (Empire of Gold, Hide & Seek, The Devil's Game) is a North Korean General that was in charge of training the three agents in the past. He's the one giving the orders and also the one that can decide if they either live or die. As an evil character, Hyun Joo is the best, he's a great plus in the entire flat script.
Conclusions of Secretly Greatly
I think the movie is really well made. Is also expressing a strong opinion against the treatment North Korean population receives from their Government. People being used as weapons. To be disposed as if they didn't even existed, abandoning them in the best case scenario.
Not knowing deeply about the conflicts that actually arise between the two Nations, people around the world might not have access to the hidden information in the dialogues and the scenes. On the other hand I strongly think that there's nothing clear in the whole movie package. Ends up as a very subjective reading from the South point of view.
I'm definitely not going there with the debate because I don't think I'm capable of doing so. I understand that when it comes to telling stories about war, the victim will be reflected from the side that is telling it. Is not a great movie, and I wouldn't recommend it. If you're a fan of any of the actors, well go ahead but in that case you've probably seen it by now. A real pity.