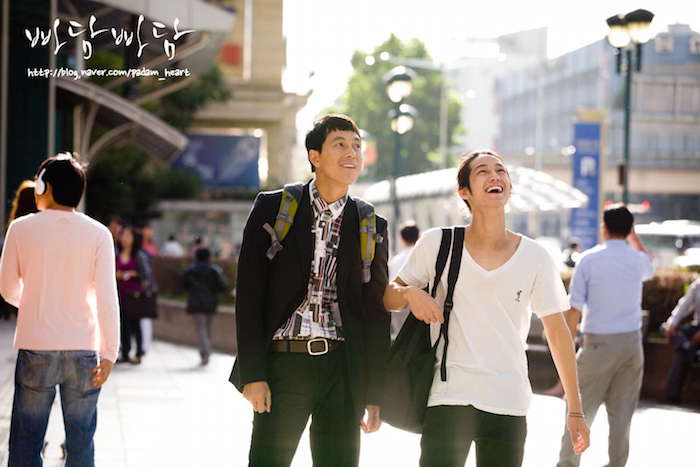 After a long long time waiting I got to watch the ultra famous Padam Padam Korean drama. It took me a while to finally start, only cause I thought I was going to cry a lot. To my surprise the story wasn't as hard I had read and the whole drama ended up being a pleasant journey, although it won't be among my top favorites as I hoped it would.
As you know I don't like giving many details of stories to let the plot surprise you, so I'll just stick to some technical points that might give you a big picture of it all.
Synopsis of Padam Padam Korean drama
Yang Kang Chil's life changes completely from one minute to the other when he's framed for murder. Being in prison he feels his life has been ruined and awaits for the day he can find the real killer and send him to jail.
Inside, he meets an strange cellmate, a cheerful young fellow, called Lee Gook Soo that keeps him company and helps him in every situation. He defines himself as his guardian angel and apparently he's telling the truth.
Gook Soo, tells him he will save his life three times. Also that each time he will have the opportunity to change the situations although results might not be the best. What Kang Chil ignores is that his destiny has prepared a really hard road for him that includes sadness, tears, unfairness and a magnificent love that seems to balance all the bad things that happened to him.
Starring in Padam Padam Korean drama
Jung Woo Sung (Scarlet Innocence, The Divine Move, Cold Eyes) is Yang Kang Chil. A rustic and loud man that seeks for justice. In the meantime he uses his talent as a carpenter to get money to help his mother and sister. He will find in Jung Ji Na the softness he ever felt before. It's a great part from this versatile actor, although it wasn't near his best, in my opinion because of directing issues.
Han Ji Min (Hide, Jekyll and I, Plan Man, Rooftop Prince) is Jung Ji na. A sweet vet that has suffered a lot in her life and tries her best to get up and keep going. She will hire Kang Chil as a carpenter without even knowing that they have a past in common and who he really is. This strange man will slowly win her trust, but not everything will be easy for them. I used to like her a lot, but I find her performances really similar among each other.
Kim Bum (Goddess of Fire, Boys Over Flowers, Psychometry) is Lee Gook Soo. A guardian angel that came to earth to find his real nature by helping Kang Chil. He doesn't understand his power or what he really needs to do. Because of that he will try his best to solve everything the best way possible. This part from him, I think it was marvelous, and the best of the drama.
Also starring in Padam Padam Korean drama
Choi Tae Joon, Kim Min Kyung, Na Moon Hee, Lee Jae Woo, Jang Hang Seon & many more.
The story has no continuous timeline, in fact you will find yourself going back, forth and to the sides the whole time. This, at least for me, was one of the strengths of the whole plot. Although the use of it decreases so much that you almost forget it's a fantasy drama. This time jumps will call your attention continuously because missing one of them means missing a whole part of the story.
On of the weakest points of the whole drama, is the volume of performances. I found many of them to be really loud and annoying, whenever people scream like that, it looses impact cause it feels overreacted.
Music on this production is not amazing, but instead it's completely memorable and creates perfect ambience for scenes. You will also find this mixture between fantasy and drama really appealing. Shedding a lot of tears that you won't be able to prevent from falling. A perfect balance between tenderness and sadness that will probably make your heart melt at some instances. What is most valuable of it is that is not entirely related to the main love story.
For the first time after watching many stories, I found a daughter that stands for what she things is right. Going against her father. That was also an out of the ordinary point in the whole plot.
In the end, we will conclude that there is no such thing as redemption. Also that ambitious people might always change many lives. Most tragedies in this story will come from the same focal point. Destinies aren't meant to change, no matter how well people behave.