I wonder why this style of movies are so appealing to me. There is absolutely no reason why I would enjoy two young woman being jealous and all that comes with it. But still, one reason might be that I love Asami Mizukawa's performances. Although it still feels like it is not a great reason to actually want to watch it.
Anyways, I want to see it, and it might feel like a girly emotions kind of movie, I know. But this story is something that happens all the time among groups of friends, specially if they are girls. Yes, I might sound sexist, but that is a fact, friendship between women is harder to achieve, and I mean, real friendship.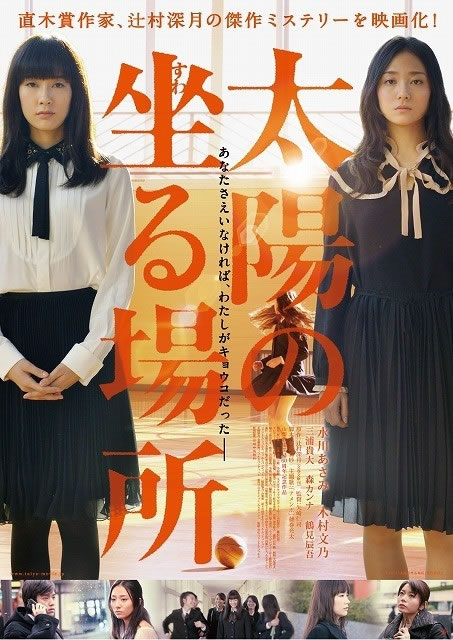 Taiyou no Suwaru Bashiyo 2014 Japanese Movie Synopsis
Two girls used to be school mates, they had the same name and even tho they become friends, their relationship is full with jealousy and bad intentions.
After all the students graduated they have been having reunions to keep in touch with each other, these gatherings are organized by different groups each year and this time is the 10th anniversary since their graduation and the first time everyone will attend.
The girls were Kyoko Takama and Kyoko Suzuhara, the first one ended up working as an announcer at a local television station, and the second is a renowned actress. Things have changed for them since highschool since Takama was the popular one and Suzuhara was the underdog. Everybody waits for the gathering and the chance to see Suzuhara again. In the meantime, flashbacks will introduce us into the complicated relationship between the two of them.
Starring Taiyou no Suwaru Bashiyo 2014
Asami Mizukawa
Kanna Mori
It might be a good one to watch on a rainy afternoon with loads of popcorn, I do not expect a life changing event but probably still worth the time. Here's the trailer!