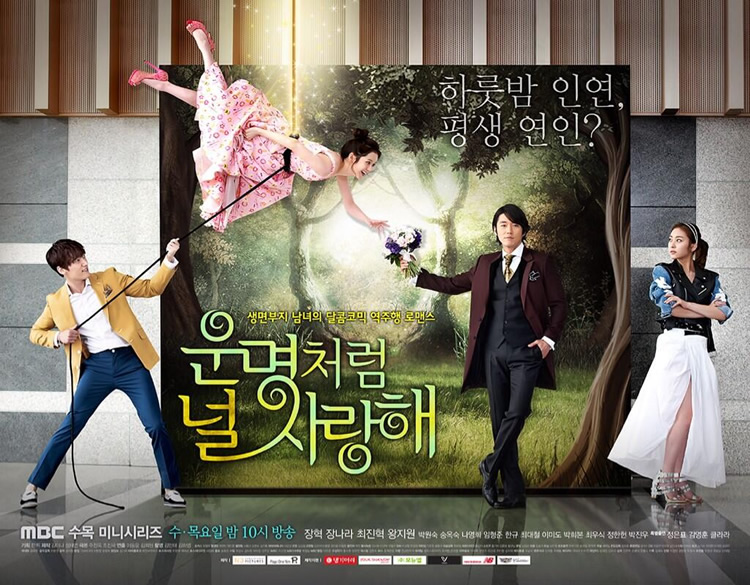 There's big news! Jang Na Ra is starring in a new drama! And we get to share the Fated to Love You trailer. It has been a really long time since I saw her in a comedy.
Her last drama was School 2013, but in that case I guess I did not like the whole story enough to be a fan of it. In that case, students took the lead.
On the other hand, I loved her in Baby Faced Beauty. So I guess if this upcoming drama is a romantic comedy then we will probably enjoy it a lot. Specially because of her male companion, the talented and with a really long list of movies and dramas, Jang Hyuk.
I have to tell you, I really need comedies. This first six months of the year have been full of tears. Too much emotion makes you need a fresh, fun and light comedy. I know that is a little too much to ask, since there is no drama out there with full comedy from beginning to end. Plus there were some (two) fun rom coms but now they are over and well…I want to watch this one! xD
Synopsis of Fated to Love You
One night stands always tend to have consequences. If not, ask Kim Min Young, a young and ordinary lady that ends up being drunk and spending the night with a big company heir.
That will not be the end for them, although he would like that. She will have to meet him again to communicate him he is going to be a father.
Starring in Fated To Love You 2014
Secondary cast of Fated To Love You
Choi Dae Cheol
Song Ok Suk
Lee Mi Do
Jung Eun Pyo
Lim Hyung Joon
Kim Young Hoon
Not the most original starting point yes, but the way the drama is presented plus the fabulous cast, it will probably end up being a great combination. We will never know until we see it so, here's the trailer!
Fated to love you Trailer