After waiting a really long time I decided to watch 49 days. I read it was a really sad drama, so I kicked it over and over again cause I didn't want to suffer. But, the truth is that even tho it is sad, it isn't as sad as you might think from the synopsis.
I'm usually really direct with my appreciations and the whole drama could have been a lot better if one of the main characters didn't have such a thin voice. It's a frustrating story from the first moment, although if you really enjoy mystery, ghosts and fantasy stories it is one to like.
There are people that love it, others that hate it, but in the end is all a matter of appreciations. For me, it becomes really slow and cycling from time to time and there's no surprise that towards the end the whole plot intensified. I really don't think it should have lasted 20 episodes. Everything that happens in the story can be display in way less time.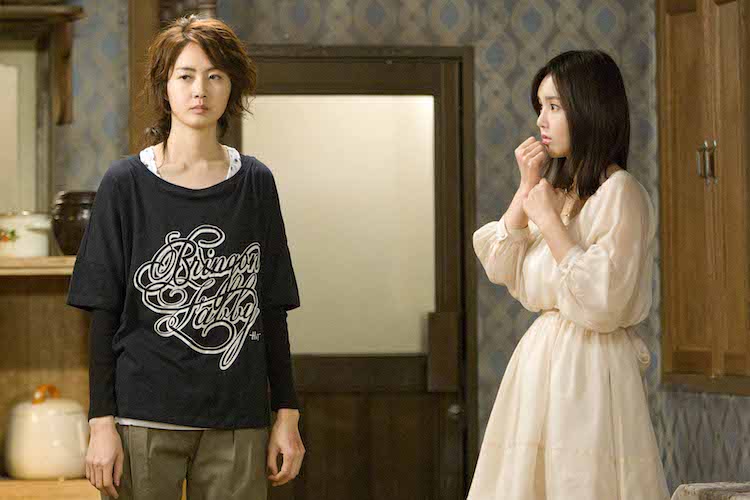 Synopsis of 49 days
Shin Ji Hyun is going to marry Kang Min Ho, her family is expecting this event because there are business behind it. Although they seem to love each other a lot and Ji Hyun tends to be too naive. Everything looks like it's going really well.
Song Lee Kyung is a woman suffering from depression. She tries to commit suicide on a highway but someone saves her. Although she ends up causing a huge accident that includes Ji Hyun's car.
She enters a coma and has no great expectations to survive. Instead her spirit is wondering around when she meets a scheduler. He's a heaven's worker that will give her 49 days to gather three sincere tears of the people who love her.
For that purpose Ji Hyun will be allowed to possess Lee Kyung's body during the day since she works at night. The naive Ji Hyun will think that this is an easy task. There will be several mysteries to reveal about her family and friends. Mysteries that nobody expects till the very end.
Starring in 49 days
Lee Yo Won is Song Lee Kyung, a woman that suffers from depression. Is possessed by a spirit that is somehow involved with her.
Nam Gyu Ri is Shin Ji Hyun, a naive woman marrying the man of her dreams. Or at least thinks he is.
Jo Hyun Jae is Han Kang, one of Ji Hyun's best childhood friends. He has loved Ji Hyun for a long time, but did nothing about it.
Bae Soo Bin is Kang Min Ho is Ji Hyun's fiancee, he's doing business.
Jung Il Woo is Scheduler, he is a rookie at this job but he tries his best to help people find the other side.
Seo Ji Hye is Shin In Jung is Ji Hyun's childhood friend, she's not as nice at it seems, but her friend will never find out until it's too late.
Choi Jung Woo is Shin Il Sik, Ji Hyun's father, a good man trying his best to make his daughter happy.
Yoo Ji In is Ji Hyun's mother, suffering from the loss, will be very difficult for her.
Bae Geu Rin is Park Seo Woo, Ji Hyun's childhood friend, a true friend that everyone would like to have.
If I have to add a highlight, I would make Lee Yo Won's performance shine bright. She's an awesome actress and here, playing two complete opposite characters, she shows pure talent. It is a really good drama with some things that I would have left out. The path towards the end becomes more interesting when the episodes pass by. So hang in there, the first part will lead you to a better place. In the end you will find it really enjoyable and surprising.
49 Days OST tracklist
For those that have already watched it, here's the memorable OST playlist. Also one of the strong points of the story. My favorite, Nothing Happened by Jung Yeop. Hope you like it!
Images from Asianwiki