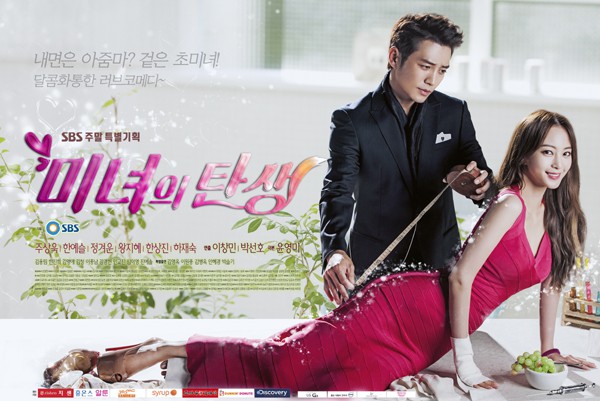 I had no expectations whatsoever in Birth of a Beauty. I didn't particularly enjoyed either 200 Pounds Beauty nor Story of Weight Losing Princess Hwa Pyung. So I was ready to hate it but…I couldn't be more wrong.
Cast is meticulously chosen, script is so well written. Expectations aren't only filled but surpassed in the first episode. You have so many genres mixed up that there is no way I can determine just one or two categories. So it's a nice mixture of several, although it fails to deliver in the end.
What is most important, unlike other makeover dramas, is that the transformation card. It would have been a problem in other type of script. Here it turns into a weapon. So there is no fear about the female lead being discovered in her lie, but we ship her to use it to get her deserved revenge.
Synopsis of Birth of a Beauty
Sa Geum Ran is a warm and hardworking woman. After getting married to the man of her dreams, spends seven years living alone. Also serving her in-laws as if she was a maid. This despicable human beings not only complain about everything she does, but abuse her verbally because she doesn't meet their (and society) beauty canon.
The truth is she's a lovely woman that gave her all to her marriage. And since she's overweight she's been badmouthed and discriminated her entire life. Far away from the usual reaction that would be hating everyone around her, she loves her husband's family and tries her best at serving them. Although everything will change when she finds out he has been cheating on her with his family knowledge. If that would be all! They are now planning getting married before she even knows he's back in Corea.
All this horrible present will be crowned by a car accident in which she's presumed dead. Leaving her inheritance to her husband's family. She learns about deception a little too hard. Decides to turn herself into a beauty in order to get revenge. Will she succeed? And in the end, is revenge what she really wants?
Starring in Birth of a Beauty
Han Ye Seul
Penny Pinchers, Spy Myeong Wol, Will it snow for Christmas?
Is Sara, Geum Ran secret identity after the makeover. She's the result of a battle of surgeries and because of that she feels like a fake. She's usually a great actress and here isn't the exception. Although I wish she was a little more like the original Sa Geum Ran.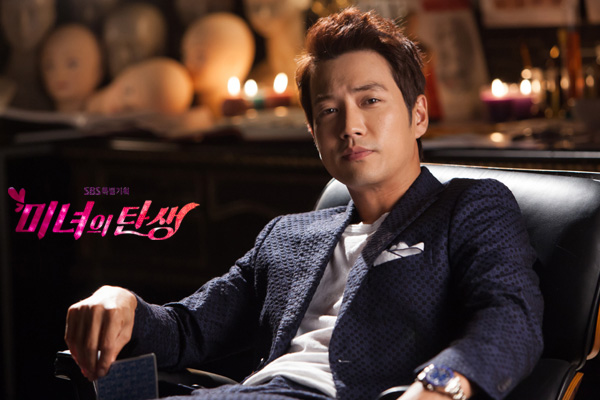 Joo Sang Wook
Cunning Single Lady, Feast of the Gods, Good Doctor
Is Han Tae Hee, a chaebol that has been dealing with childhood traumas because of an accident his parents were involved in. He meets Sa Geum Ran and helps her to get the body and face she wants. Although she might need more than that. A delightful character from this talented actor, as usual.
Jung Gyu Woon
History of the Salaryman, Wonderful Mama, I need Romance 2
Is the despicable Lee Kang Joon. He has been married to Geum Ran for 8 years and been away for seven. He's having an affair with an anchor girl. This has been happening for a long time. He plans to kill his wife to save the inheritance and after that, marry Gyo Chae Yeon.
Wang Ji Hye
Protect the Boss, The Suspicious Housekeeper, Hotel King
Is Gyo Chae Yeon, an ambitious woman that doesn't care being a mistress. She either shows any sign of regret when Geum Ran asks her to leave her husband. I'm a little worried about her, because she keeps getting similar parts. She's a great actress that can be hilarious when the role allows it.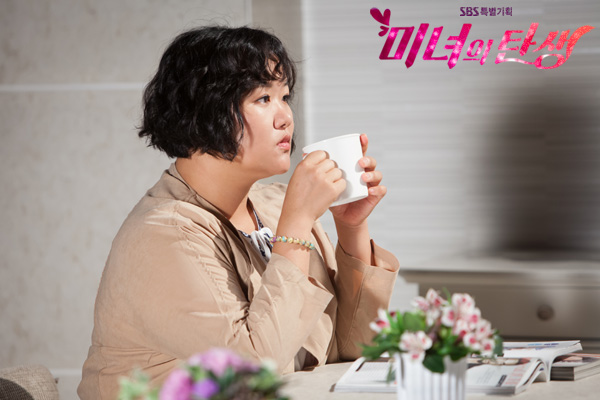 Ha Jae Suk
One Well Raised Daughter, Lights and Shadows, Protect the Boss
Is Sa Geum Ran. Her performance demands to be highlighted. She is not only adorable and emotional. She makes the audience cry a river with her role. I'm so glad she's casted in an upcoming drama.
Also starring in Birth of Beauty Korean Drama:  Han Sang Jin, Han Jin Hee, Kim Young Ae, Kang Kyung Hun, Jin Ye Sol, Kim Yong Rim, Shim Yi Young & Kim Cheong.
Conclusions of Birth of a Beauty
Towards the middle it starts to feel a little bit draggy. But that is because the first half of the drama has so much stuff going on that it is impossible to keep the rhythm. Towards the end that strong weapon feeling ends up disappearing. Sadly, it does for the same cliché reasons we are able to watch in 90% of dramas. The sneaky girl gossiping, the elders believing that gossiping and the heroines being weak and martyr like.
I wish writers would find other ways to portrait drama. There are so many elements that would have been a great ingredient for the script other than the usual development. I adored the main couple, but I would have liked it more if things weren't so predictable. By episode 12 I already knew what was going to happen, and it did.
Writers, remember, drama fans have seen many stories before. Don't use the same old tricks, specially when you have so much potential in a story like you do with this one. Overall it is a good drama. Mainly because of the first half and the fantastic chemistry between our goofy and lovely main couple.