Okay, so…finally, a movie that in my opinion, which it might not be the best if we speak about horror, was great with a new and out of the ordinary script with the fantastic Asian style that always brings something else to the table.
Coming Soon is a Thai movie, directed by Sophon Sakdaphisit, who had co written in the past, great horror stories like Alone and the great Japanese horror movie The Shutter (both absolutely must sees if you haven't yet). What happens with this type of movies is that they give a little more than we expect from them in the beginning.
I'm going to try to review it without spoiling any important parts, because I think that's the best way to watch it. The whole story and one actress' performance in particular had made me consider watching this kind of movies ever again. *turns her lights on*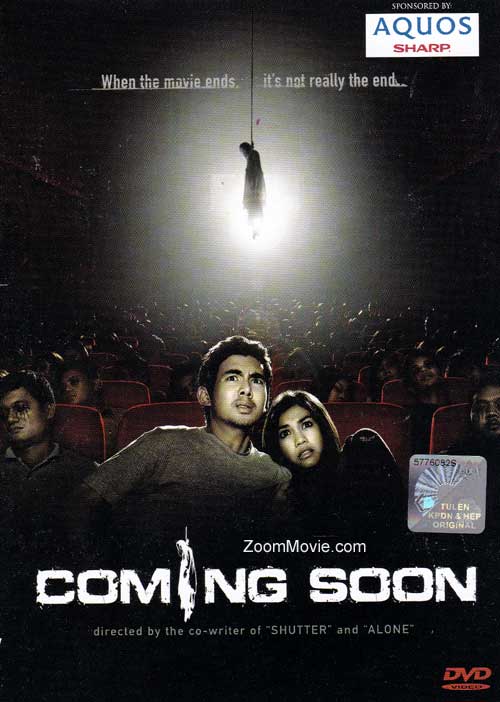 Synopsis of Coming Soon Thai Movie
The release of "Spirit" is a huge event. This movie inside the movie idea is a little bit over used, but in this case, the pieces fall perfectly into place. Two characters, who used to be part of the projection team and they were in charge of taking care of the films, decide to make a pirate copy of it to sell it hours away from its debut.
One of them will stay making the copy, and the other will distribute it the next day. When the last one comes back, he finds out his accomplice is missing. He goes to his place, and starts feeling that something is chasing him in the shadows and that is probably what made his partner disappear.
As the time passes, more people start disappearing after watching the movie. That's why Shane and his ex girlfriend, his partner's sister, start investigating what is going on, mostly because whatever is going on, started chasing them too.
Starring in Coming Soon Thai Movie
Chantavit Dhanasevi (Hormones, Hello Stranger, ATM Er Rak Error) is Shane, a producer that lost everything he had because of an alcohol problem. This addiction had expensive costs in his life, losing his job, his future and the woman he loves. Due to his decision of pirating the movie to get some extra money, all the troubles start and something weird starts chasing him and his ex. But, nothing is as it seems at first.
Worakarn Rochjanawach (Punch member) is Shane's ex girlfriend, and even tho the facts will tell her not to do it, she will try to help him investigate without even knowing what is going on.
There is a particular image that brings all the fantasies, as you may know, that's the best type of horror. I'm pretty sure that that image will make you tremble like it did to me, it's the kind of fear that transcends the screen in majestic ways and originates nightmares when we go to bed. The story is good, in performances you will find some flaws, but direction will keep your tension going and the script will give more than you expect. I highly recommend this movie and I won't take responsibility if you can't turn of the lights anymore.
Sensitive Trailer