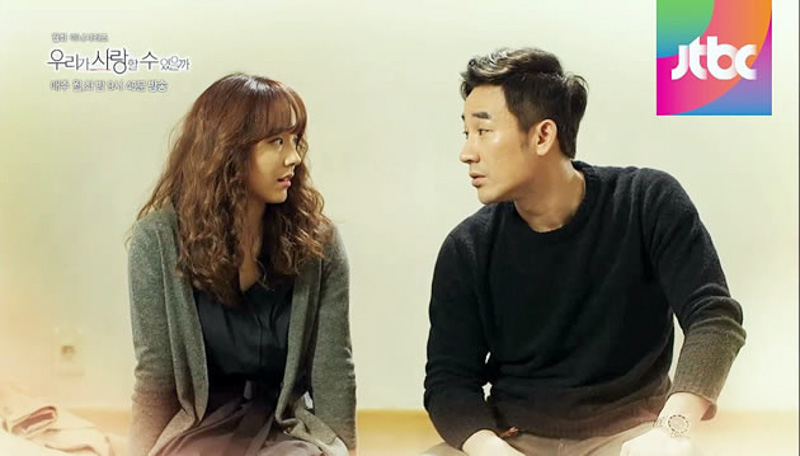 Can we love is a drama that started really softly. Several couples going through different states of marriage, divorce and new relationships. It appeared to be a really depressing story but when episodes started airing it became fun and entertaining. This is until the middle of it after that it goes down, down, down.
The plot tends to be boarding serious issues that usually happen to people between their thirties and forties. There are a lot of funny moments till they have to fill up 20 episodes with pure depressing stuff.
There were some performances that I enjoyed more than others, it usually is like that, but some of them turned to be almost unbearable, good thing is that I know it was because of the actress or actor, and not because of the part or the way the script was written. I certainly know that if someone else had played the part I would have enjoyed it in a whole.
That said, there's no way of telling a little about the story without spoiling it if I don't mention the characters and names and how they are involved. You will see that there are enough situations to cover almost the whole palette of relationships that can happen between grown ups, divorce, infidelity, love after 20's, teenage parenthood and everything that comes involved, pride, greed and jealousy, with tiny bits of really funny moments. What seemed to me the most original approach was the way almost all characters told things directly, of course there were exceptions but in general situations solved faster than at any other drama just because people talked to each other. It was a nice feelings since we drama fans are a little used to traps and lies more than truth.
Can We Love 2014 Cast
Eugene
Baker King Kim Tak Goo, A Hundred Year Inheritance, Yoga
Is Yoon Jung Wan, a writer that ended up divorcing after 10 years of marriage. She lives with her adorable son and her half fun half annoying mother. Even tho she got to work at a big production she needs to get part time jobs to support the family. Her ex husband is nice but she ends up having to bare with the new girlfriend and the unexplainable ex mother-in-law, a spoiled woman with no common sense. If I have to see Eugene playing the victim one more time I will abandon whichever drama she's working on. A Hundred Year Inheritance all over again. Enough! On her defense this time her part had fun and daring bits that made the performance one of the most entertaining.
Uhm Tae Woong
Architecture 101, Top Star, Man from the Equator
Is Oh Kyung Soo, a world renowned writer and director that ends up being Jung Wan's boss. My gosh! that man speaks fast! I thought it was just because of the parts he played but I'm starting to think it's just the way he speaks, almost impossible to follow. He starts like an annoying man but as soon as we go through episodes we start understanding his ways, to end up being almost adorable because he's like a grown up child, hurt inside and saying whatever crosses his mind, doing what he thinks he must.
Kim Yu Mi
Cruel City, God of War, Wild Awake
Is Kim Sun Mi, a single woman in her 30's that is having a relationship with a younger man but looking elsewhere to find Director Oh of course. She's close to Jung Wan and is the devilish that apparently can't be left out in dramas lately, the one that doesn't care about anything and just go around doing stuff to make herself satisfied. Some people call it ambition and I think it's okay to have it, but not to the extend that you end up lying and betraying. I didn't like her character because it wasn't nice, but she played it really well.
Choi Jung Yoon
You Smile, Manny, Attic Cat
Is Kwon Ji Hyun, a mother of two, married to a successful director that hides her real past. I have no idea why she only picks roles that make her annoying and hateful. Or is it just me? I don't remember liking her in any drama, and hating the ones that she was the main female lead. I just don't like her job at all…anywhere.
Kim Sung Su
Suspicious Family, My Precious Child, Full House
Is An Do Young a long time ex boyfriend of Ji Hyun. He is a part of that hidden past of hers and he's also Sun Mi and Jung Wan's boss now. and at the same time Director Oh's cousin. I still think he can't act, but whatever he serves the script.
Also starring in this drama
Kim Hye Ok as Jung Wan's mom.
Shim Hyung Tak as Jung Wan's ex husband.
Jeon Joon Hyeok as Jung Wan's son.
Park Min Woo as Sun Mi's assistant/lover.
Nam Sung Jin as Ji Hyun's husband.
Jin Ji Hee as Ji Hyun's daughter.
The OST is lovely, one of the best of the year until now. It beats "I need Romance 3" that is also really good. And there is also a detailed wardrobe selection that makes colors also meaningful at some points. It is a really well made drama and, excepting some performances, I think it is really good but lacking in depth. In the end everyone ends up making the same faces just to fill up the time. I Recommend it if you're looking for some mature relationships and situations, but it won't change your drama life.