If you are looking for a nice enjoyable 98 episode drama, Don't Hesitate is probably not the best you could pick. It is a little hard to explain the reasons without going in too deep with the plot, but I will try. You will probably find out about this in the first episode anyways.
Frustrating like, well many others, sadly. With so much happening and nothing happening at all. A dumb main character that has so much nerve with the wrong people for so long. If you hate weaklings then this is definitely not your drama.
I won't extend myself too much, since it's really not worth it. Maybe, if you are a fan of any of the actors that perform here, you might actually enjoy it. I will give a synopsis and you will probably think: oh! wow! this is promising. Well sadly synopsis is everything that happens…in 98 episodes!
Synopsis of Don't Hesitate Korean drama
Jang Soo Hyun is a young cheerful chef assistant. She has been going out with Choi Min Young for eight years, and he finally is taking his bar exam to become a judge. He asks Soo Hyun to marry him so they are both really happy. His mother, on the other hand, has some other ideas about who he might or might not marry, and Soo Hyun is not on the likes of her because she's poor.
For this couple, everything starts going down the drain. When his mother forbids him to marry her, he drinks enough to destroy his liver. He ends up needing a transplant. In her desperation his mother will search for Soo Hyun, and ask her to be the liver donor. She is naive enough to believe in her in-law's good deed, and agrees.
When she's going into the operating room and under anesthesia, her best friend confesses she's pregnant with Min Young's baby. She won't wake up until three years later. She does not remember anything and has to start her life again while the rest have already moved on.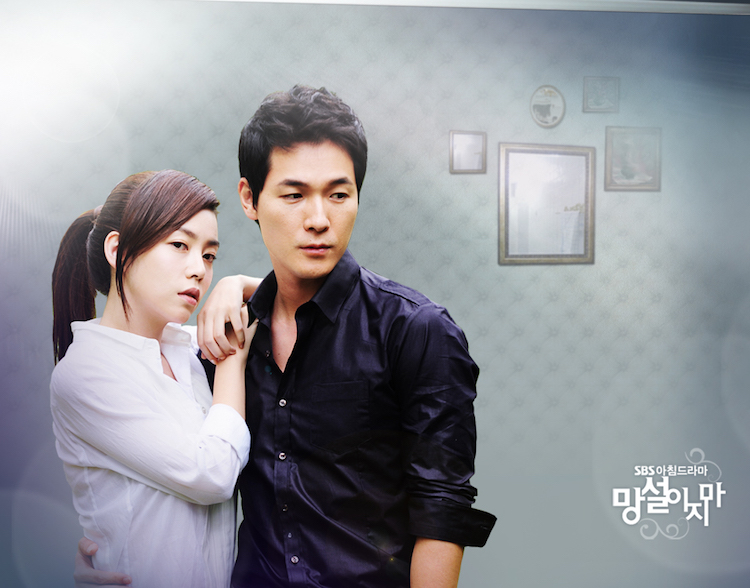 Starring in Don't hesitate Korean drama
Lee Tae Im (For the Emperor, Entourage, My Heart Twinkle Twinkle) is Jang Soo Hyun.
Lee Sang Woo (Happy Home, All About My Mom, A Word From Warm Heart) is Han Tae Woo.
Kim Young Jae (A Melody To Remember, The Whistleblower, The Target) is Choi Min Young.
Bae Min Hee (Helpless, The Great Seer, He who can't marry) is Oh Sun Ah.
Kim Hye Ok (Sunny, Father, I'll Take Care of You, Start Again) is Cha Young Ran.
Lee Hye Sook (Take off, Open City, Beautiful Gong Shim) is Lee Jung Soo.
Conclusion
There is no way I would come near this drama again, I found the whole plot being a great starting point and then become nonsense and unbelievable. The OST was really enjoyable and memorable, so that's a point. Performances were also really good, even tho the whole story became crazy. Again, I know there are some people that enjoy this kind of 'going back and forth' dramas, if you're willing to hang in there for 98 episodes, then go for it!
I wasn't able to find the trailer, this usually happens when the dramas are a little old. Sorry!
Images: BBS KDrama