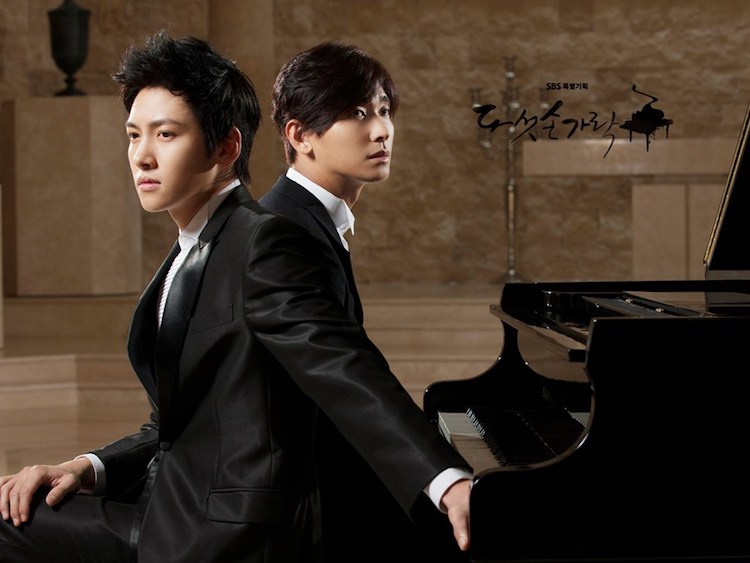 Okay, so…after a long long agony, crying and suffering, I finally finished Five Fingers. It lasts 30 perfect episodes. You don't need anything extra or to leave something out of the story. In the over a hundred dramas that I have watched during all this time, I never felt what this torturous story delivers.
I clearly don't recommend it if you're going through a dark phase in your lives. This drama will get the worst of you and the best as well.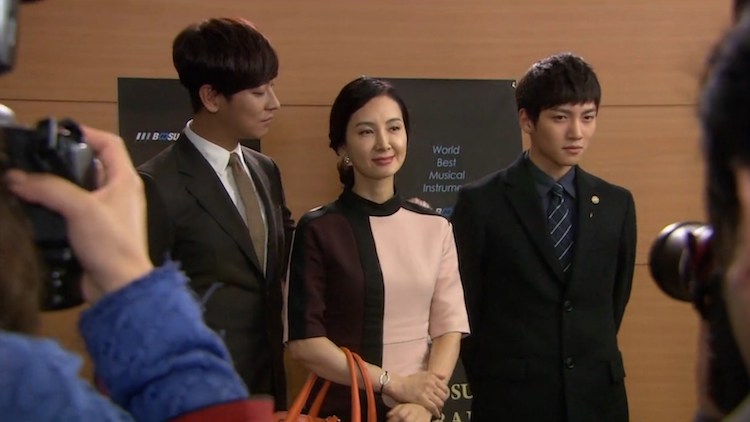 Synopsis of Five Fingers
Soo Pyo brings to live with his family a twelve year old illegitimate son. From that moment on he and his other son will become rivals. Competing for the fatherly love, they will excel in the piano studies.
Although the eldest will have to beg for love from his step-mother, he will be the one with the greatest talent. Also the greatest heart.
The rivalry will decide who inherits the family business and will become harder when a love from childhood enters the scene.
The mother will be a determinate factor between their lives and their happiness.
Starring in Five Fingers
You will find out that I take a particularly long time to explain the characters. The thing is that I think they need special attention. Starting by the secondary characters, because I want to leave the best for the end, and because it really deserves it.
Oh Dae Gyu
Plays the father, Hong Soo Pyo. The Hong family is humble, honest and they bare that flag high. Even when bad things happen to them, they always try to solve it being righteous. He is not a main character by himself. But he will turn the course of history, a story that won't let us breath.
Jun Mi Sun
As Song Nam Joo. I have to highlight this part, because it's just amazing. She's an energetic woman that apparently fears nothing and will do anything to unveil the lie that will turn their lives into madness.
Jung Eun Woo
Is the young Hong Woo Jin, he will have an important part to play in the story and also excels in his performance.
Jin Se Yun
Is Hong Da Mi, is the weakest link, she always is. She was called at the last moment having to portrait a really complex part. I would have called someone with a little more than one expression to replace Ham Eun Jung (she was playing the part in the first place). The whole drama you'll be missing the little girl that portraits Da Mi's childhood. She is just brilliant.
Cha Hwa Yun
Is Na Gye Hwa, with her grandmother's part will earn your heart with each intervention. Although he has a rough start she will be the only one that sees it all.
Kim Ji Hoon
Plays the role of a young In Ha. He interprets a spoiled and hateful kid that will grow up only in body. Ji Hoon plays an amazing part.
Ji Chang Wook
Our beloved Bachelor's Vegetable Store hero, will show his darkest side as the grown up In Ha. Living as his half brother's shadow he has an empty and despicable soul.
Joo Ji Hoon
The spoiled prince from Goong, will play Ji Ho. An abandoned kid that arrives to this family from his father's hand. He seems to give him everything, but when the story goes on we will find out the truth behind this act of kindness. Ji Hoon is never a surprise, since he excels in every part he plays.
Chae Si Ra
By far one of the most amazing villains we have ever seen. His part as Chae Young Ran, a woman that has suffer and wants to take charge of her life. She won't five anyone a rest and will earn the audience's hate second by second. What I would like to point out about her performance is her ability to make us hate her and understand her in a matter of seconds.
Conclusions of Five Fingers
It never happened to me that I wish a whole story ended so I would stop suffering. I know it didn't have a great audience, but I think that's because they don't know what they're missing.
Performances are amazing, and each character (except the girl with one face) will deliver more than we expect.
I highly recommend you to watch it. You won't regret it.