I don't know about you but I enjoy watching mystery thriller drama, specially if they are mixed with some comedy and a big cast that makes the plot jump everywhere. I wasn't really waiting for much, since it was an oldie, I thought that rhythm would be slow and tiring but I was really wrong.
This drama has everything that anyone who loves the mixture of thriller and comedy could want in one. There's also a nice amount of romance, but not in a classical typical way, it feels deep and sometimes nostalgic, maybe because of the characters involved.
Synopsis of Harvest Villa Korean Drama
Oh Bok Kyu's father is the owner of Poongnyeon Villa, an old apartment complex that is bound to be demolished. The legend has spread that the owner has hidden a huge treasure inside the building, so the current inhabitants are looking for it. Their ways might not be the best, since someone has murder Bok Kyu's father.
He will inherit the Villa, and will try to run it as his father last will, but since he is naturally naive, everyone will try to take advantage of him. Although he will learn the hard way that nothing is like it seems, and that the world is full of untrustworthy people.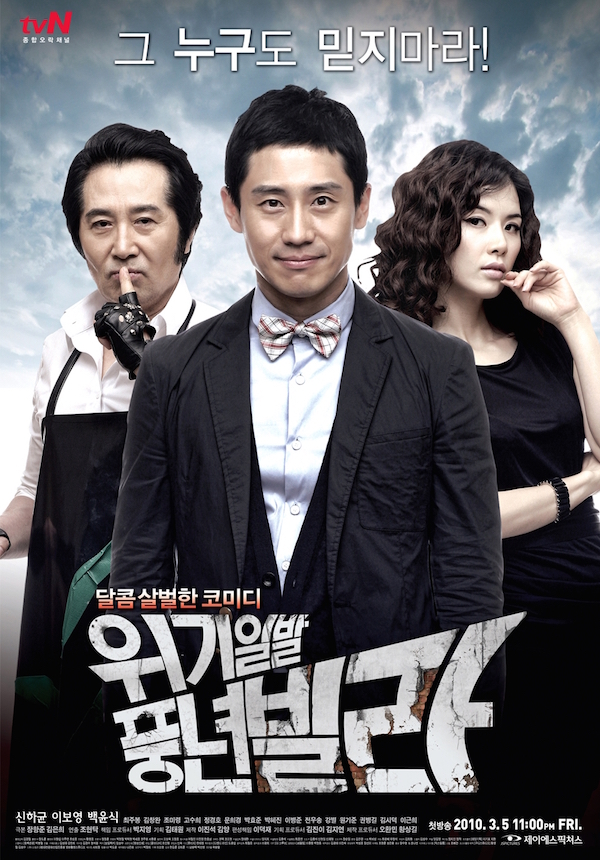 Starring Harvest Villa Korean Drama
Shin Ha Kyun (All about my romance, Running Man, Mr. Baek) is Oh Bok Kyu. This naive young man that will fall for his beautiful and mysterious neighbor. He doesn't care about money. His father will leave him a huge inheritance that he will receive after accomplishing certain activities. This will bring him not only troubles, but despair. He's always amazing at his roles, and we can see a young and not so overreacting Ha Kyun, which I think shows his best.
Lee Bo Young (I can hear your voice, God's Gift – 14 Days, Man from Equator) is Yun Seo Rin. A beautiful designer that moves to the Villa when Bok Kyu starts administrating it. She seems a tough and nice lady that will steal Bok Kyu's heart at first sight. It's nice to see her in this part since it's a mixture of good and evil. A talented actress that is becoming an all time favorite.
Baek Yoon Sik (Tomorrow Cantabile, Immortal Classic, The Face Reader) is Park Tae Chon, a gangster like man that has a mysterious background, although he does have a family, they have lots of issues to solve between his wife and his daughter. He will be one of the first suspects for the audience. His performances are usually hilarious, in this case, the dark aura, and gangster attitude will be in charge of the few tears you might drop on the entire drama.
Moon Hee Kyung (Surplus Princess, You are my mother, You're all surrounded) is No Mae Ja, Tae Chon's wife, she's having an affair with a suspicious man, and despises his husband although she might be getting everything wrong. An interesting part for this talented actress.
Also starring in Harvest Villa
Kim Chang Wan, Jo Mi Ryung, Ko Su Hee, Kang Byul, Jeong Kyeong Ho, Park Hyo Jun, Choi Ju Bong & Park Hye Jin.
Conclusion of Harvest Villa Korean Drama
Harvest Villa isn't a ordinary drama. Even tho it has romance, drama, comedy and thriller portrayed, the truth is that you will find every aspect of it really unique. Director will make you enter this strange world with lots of stories to tell. You will find that there isn't just one story to follow, but many of them converging at this strange place.
Highly recommended if you're looking for an oldie (not so oldie) that's complete out of the ordinary but has everything in it.