Well I have to say that there aren't many airing dramas that look appealing to me this season. The reason is that I find them a little boring and too subject specific. Sadly, this is the case with A New Leaf too. A drama that I waited with great expectations because of Kim Myung Min. But I could not be caught by the story at all.
Full of legal terms, endless speeches and a slow rhythm. The drama starts nicely, a little funny, a little tragic. All that just disappears behind technicisms. I'm not only a huge fan of Kim Myung Min. I have seen all his dramas and they are all great. But in this case I guess the real issue is that the genre just isn't for me.
There are many examples in ways of building power and making decisions either in business or life. Morals are apparently out of place while all that matters is to maintain rich clients happy and national economy stability.
Synopsis of A New Leaf
Premise starts with a star lawyer doing what he does best, winning cases. He works for one of the biggest law firms in the Nation. He also holds the keys to many relevant litigations. This will make him get a nice amount of powerful enemies and ultimately endanger his life.
As a result he will end up suffering a physical attack and losing his memory although he won't lose his legal abilities. Being half of what he was, since he lost the ruthless side of his brain, he will try to continue working but without knowing exactly what to do.
The drama is a continuum of cases that will show the dirty side of politics, economy, law and why not, human nature. With lots of memorable phrases that might leave a good impression on the spectator.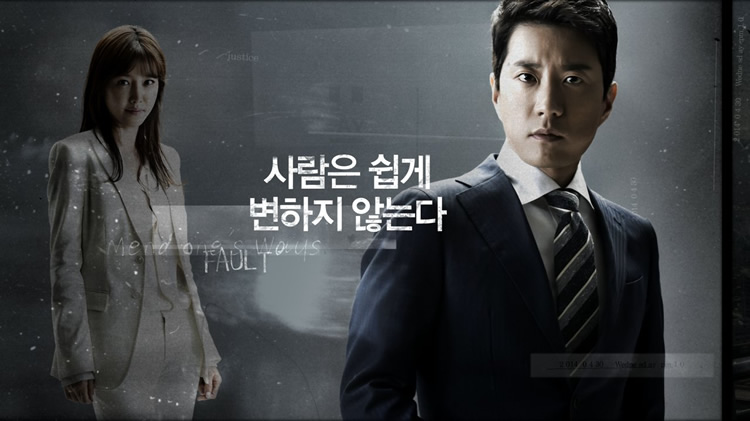 Starring A New Leaf Korean Drama
Kim Myung Min
The King of Dramas, Beethoven Virus, Deranged
Is Kim Suk Joo a fearless lawyer that will go to any extent to achieve the winning goal in his cases. He tends to be rude with those around him, but if there is an impossible case, he can win it. He's the star of the law firm he works for, and has a bad relationship with his father who used to be a lawyer too and a politician. He digs a little too much where he shouldn't and someone tries to kill him, after that he loses his memory and will try to rebuild his life with another attitude since he can't remember who he really was. Myung Min can portrait anything he wants and you will believe it, the changed character was so good that it looks like you are watching into two different people. Is not his best role, but not because he did a bad job but because of the unappealing storyline.
Park Min Young
City Hunter, Dr. Jin, Sungkyunkwan Scandal
Is Intern Lee Ji Yoon, she meets Suk Joo at a friend's wedding and ends up in a strange situation, after that he meets him again at his new job, yes, the difficult man is her new boss and she will suffer until he changes after the accident. She holds a great sense of justice and her dream is to become a prosecutor one day, that's why she finds herself going against her will with the cases. I'm not a great fan of her performances but in the beginning she was really funny and her character felt natural.
Kim Sang Joong
City Hunter, Doctor Stranger, Golden Rainbow
Is Cha Young Woo, the head of the law firm, and a man of power scripted in his head. He will try to keep Suk Joo with him until he pleases but loyalty is not among his line of work. This man voice and performance deserves a whole new post, I have never seen anybody portrait a character without changing the tone of his voice for the entire series, he had the longest speeches with that deep voice of him but no emotions whatsoever. Strangest character.
Jin Yi Han
Empress Ki, Dr. Jin, Come Come Absolutely Come
Is Judge Jeon Ji Won, a man with principles that will be tempted, he meets Ji Yoon at the same wedding party, but they get along really well since he's charming she can't help to smile every time she sees him. I liked his performance even tho the character to portrait was a stiff emotionless man, he always does a good job.
Also starring in A New Leaf
Chae Jung An, Choi Il Hwa, Oh Jung Se, Ahn Sun Young, Lee Min Hyuk, Lee Joo Yeon & Lee Han Wi.
I cannot say its a drama I enjoyed. There are some bits that feel appealing but over all it turned out to be too technical. It doesn't deliver what I hoped for from the preview. This would teach me once again not to raise my expectations before watching at least one or two episodes.
If you like legal series, then this one might be the ideal for you, but I rather watch The Client or Unbowed as really good legal movies than go through this one again.