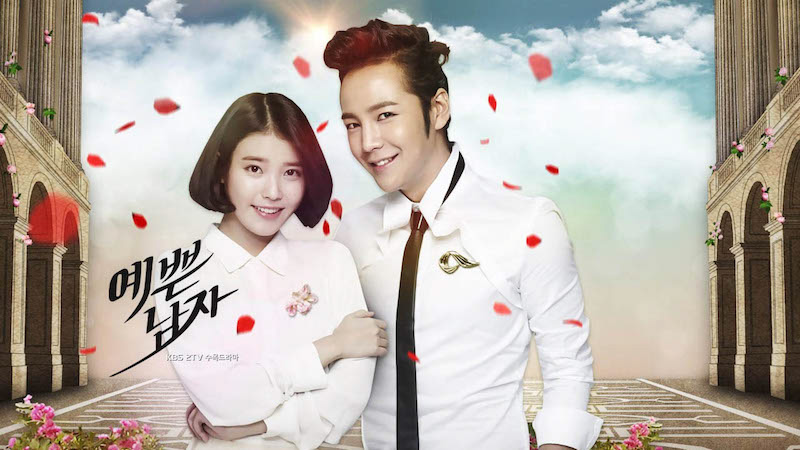 Some of you may know it as "Bel Ami" too, but Pretty Man was the official name when the teasers started. The long waited comeback to the small screen of our Asia's Prince, Jang Geun Suk. Who I think did a better job on other dramas. Maybe it's because it's tiring watching him play the arrogant guy over and over again. Or maybe it's because I enjoyed his rol on Beethoven Virus so much that I'm hoping to see him like a romantinc looser again. Don't get me wrong, it was a good performance, but if you have seen his other dramas you will find similarities.
Enough about that, let's see what this drama left and what would make you want to see it. First, the storyline, it's a new kind for sure, but it got something that whispered "Twelve Man in a Year" to me. The starting point is different, but the idea of a man tasting women to get the best of every experience, sounded familiar somewhere else. Despite that, when we start watching it takes us somewhere we did not expect and that's somewhat appealing.
The female lead is also one of a kind, because not only she's a colorful silly girl, but she's also kinda mischievous in her thoughts. On the other hand, opposite to what we may think, she's tough and always works the best to achieve whatever she wants, and succeeds! This is one of the few dramas I've seen that doesn't end up with the heroine doing everything wrong. I liked that.
BUT! Well, some feelings there were totally over the top. Specially her blindness for her "Pretty Oppa" which made me hate her a few episodes. In general, it was almost original.
On clichés side we have evil ahjummas, birth secrets and fated encounters. But as you can see, there aren't many ordinary places.
Synopsis of Pretty Man
The ex daughter in law from a big conglomerate looks for Dok Ko Ma Te to make him the heir of the company. To achieve that she brings him missions that he must accomplish in order to gain experience. He needs to learn how to be powerful by dating all kinds of women. This is a double-edged sword for both of them and the people around, since misunderstandings and heartbreaks will be all over the place.
Ma Te's childhood friend, Bo Tong, is totally in love with him since the first time she saw his face. She will be his secret weapon, but what is going to happen to her when he is busy dating all kinds of women.
This drama is based on a manhwa called "Pretty Boy" and I'm pretty sure it's inspired on Guy de Maupassant's "Bel Ami" too. Although the twists here are a lot softer and with some sweet comedy that makes it way much lighter to watch.
Pretty Man 2013 Cast
Jang Geun Suk (You're Beautiful, Love Rain, Mary Stayed Out All Night) plays the roll of Dok Ko Ma Te. A pretty boy that is followed and stalked by all kinds of ladies, since he was a teenager. This made him grow conceited and take advantage of his situation by dating rich older woman.
IU (Lee Son Shin You're The Best, Dream High) is the cute Kim Bo Tong. Full of colors, full of smiles, and totally in love with Ma Te. She will have to bare a lot to try reach his heart. She's not only an awesome idol but a great actress that is growing really strong.
Lee Jang Woo (Man of Honor, I Do I Do, Oh Ja Ryong is Coming) brings the adorable David Choi to life. He falls in love with Bo Tong at first sight and tries hard to be part of her life. They share a goofy and lovely relationship, but of course, someone here will be heartbroken.
Han Chae Young (Ad Genius Lee Tae Baek, Fireworks, Delightful Girl Choon Hyang) incarnates Hong Yu Ra. The ex daughter in law of a big conglomerate that is trying to get her daughter back. She was left with nothing but a coffee shop from divorcing. Personally, I think Chae Young is incredibly beautiful, but she needs to loosen her body when she acts. Her whole expression feels stiff and this has been happening on her last dramas.
Conclusion of Pretty Man
I have mixed feelings with this. I think some characters have an interesting aura and a nice chemistry among them. Others felt like they came from other stories that we had seen before. It's not like we hate clichés (cause we wouldn't watch kdramas otherwise or tv at all). The problem here is clichés seen in other parts played by the same artists.
That said, I think it's a lovely drama to entertain. With warm feelings and some hard time to watch ones. The OST is totally beautiful, but it's not going to be an inflection point in our drama fan life.
Image Source: KBS