Okay so, among all the Korean drama that I started watching this season You're All Surrounded was one that I was sure it wouldn't disappoint the audience. First because of the cast, second, because of its director. And last because it had action, drama, romance and comedy in it from the second it started. It wasn't a perfect mixture between them all but enough fun not to turn it into a melodrama and enough drama not to be a hilarious nonsensical parade.
In this well equilibrate script there is tension over all and what I personally like the most is that it isn't predictable. We couldn't prevent what was going to happen until the very end. We all drama fans know that it is a little hard to keep the viewers interested in a story that lasts 20 chapters long. Despite this, You're All Surrounded does it greatly.
I won't say that this drama is the best of all the actors and actresses in it. Probably because there are sure better ones not in the making but in the storyline. But if you like action you got it, if you like comedy, well you have it but not so much as you wish. And lastly, if you are looking for detective stories and a little bit of romance, yes, you have to start watching it right now.
You're all surrounded synopsis
After the death of a nurse, her son decides to be a detective and solve her case. He wants to find his mother's killer and get his proper revenge. After twelve years of preparing himself, he is now a detective. He is assigned to the Gangnam Detective Unit under the detective that in his beliefs caused his mother's death due to making her testify against someone powerful.
He won't be alone, four rookies will try their best to become detectives. Although they will have to deal with their well prepared legendary boss. He seriously believes they won't make it and doesn't care to tell them otherwise. The boy that has now become a young undercover detective will find, among their new partners, an old schoolmate. She is a girl that was too loud to be ignored but with a high sense of justice. He needs to hide his identity and she will stick to him like glue.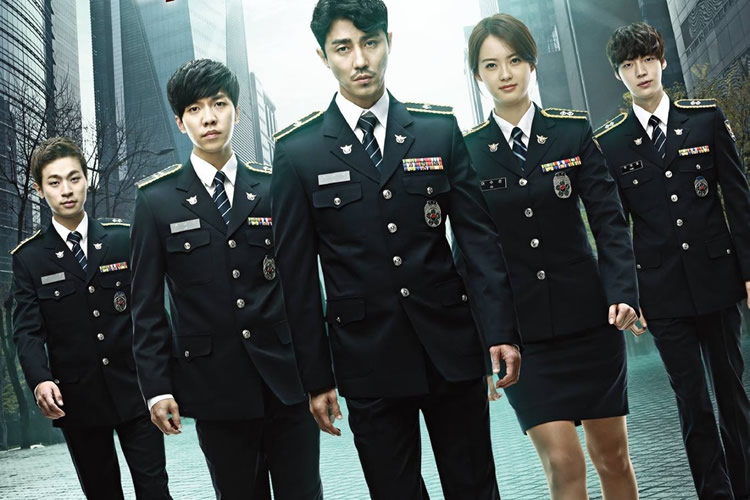 Starring You're All Surrounded Korean Drama 2014
Lee Seung Ki
King 2 Hearts, Shining Inheritance, My Girlfriend is a Gumiho
Is Det. Eun Dae Ku, he swore to avenge his mother's death and comes to this specific station to find out the truth behind it. In the way he will start unveiling hidden secrets that he didn't even dream of, and will have to struggle with a reality that overwhelms him. He's bad tempered but smart like a machine, and he will try to keep Soo Sun away from him in order not to be discovered. Is the first time (at least for me) that I watch such a dark character from Seung Ki, I could assure this role was even darker than the one on King 2 Hearts but as usual he performed greatly.
Cha Seung Won
Man on High Heels, The Greatest Love, City Hall
Is Det. Seo Pan Suk, a veteran detective that was involved in a investigation that involved Dae Ku's mother. It was the only case that he could not solve, but for all the rest that he did, he's recognized as a legend between his partners. He's like an older version of Dae Ku and that's what will make them crush each time they talk. Seung Won's part in this drama was way less hilarious than the ones he performed in the past, but also had deeper emotions, I adore him, I can't say anything else.
Go Ara
Answer Me 1994, Who Are You?, No Limit
Is Det. Eo Soo Sun, she used to be Dae Ku's schoolmate, used to drive him nuts, yelling all the time and seeking for justice even if it was too big for her. She's now a detective and the only girl in the group, so she will have to deal with a lot of prejudice from her male boss and her special partner Dae Ku. I found a lot of similarities from this character to the one she had in Answer Me 1994, but I think she's very unique and this part suit her nicely.
Ahn Jae Hyeon
Fashion King, You Who Came From The Stars
Is Det. Park Tae Il, another member of the rookie team, he has family issues and that's why he ended up in this group. He's a calm guy without many emotions but later on we will find out why. Jae Hyeon is enjoying his first works, next we will be able to see him in the movie version of Fashion King (in which I hope they change the ending, please do!!!), he did a good job but I think it's too early to judge fairly.
Sung Ji Ru
Fists of Legend, Children…, Paradise Murdered
Is Det. Lee Eung Do, Det. Pan Suk's partner and long time friend, he tries to help his bad tempered companion to ease the consequences but deep inside he understands him like nobody else. A sweet character that suffers the pain of others, father of five children he tries to keep going and work his best through all the unfairness that surrounds everyone in the team. He's usually a minor character actor in dramas, but an awesome lead in movies, if you haven't seen any of his movies his works in Paradise Murdered or Children… were really great and so was this one.
Park Jung Min
Mad Sad Bad, Adolescence Medley, Golden Time
Is Det. Ji Kook, it's the fourth link in the rookie group. A dorky character that is too scared to be a good detective but will slowly start growing in strength with a little help of his mates. It's my first time watching him perform and I find his character really adorable, I have no idea how does he play on darker roles, but since Golden Time is in my list, I will soon.
Oh Yoon Ah
The Firstborn, Incarnation of Money, Childless Comfort
Is Chief Kim Sa Kyung, she's the section chief and a super beautiful one. She shares a dark past with Pan Suk and she shows her anger towards him constantly. As the story goes on we will find out what really happened and why she behaves the way she does. I've seen her in a great amount of dramas, since she's usually a secondary actress. Even tho she always plays the bad foxy lady, here she was absolutely fantastic, a great part for her, I hope she gets more cool roles like this one.
Seo Yi Sook
Empress Ki, The Fatal Encounter, My Dear Cat
Is Chief Kang Suk Soon, is the General Chief of the Gangnam Detective Station. A woman that is in charge of dealing with everything that comes from the higher levels. Deliver orders is her job. A hard woman that has to deal with a dark past. Probably a dark future too. Just because when it was the right time to do so, she looked the other way. After hating her in Empress Ki, I can't say I wasn't suspicious for her the entire drama, but she's an awesome actress anywhere she goes.
All characters have their part in this story. With bigger or smaller life issues everyone has their time to shine. Some of them are a little superfluous but others are really deep and emotional. Its a drama that has it all, romance, comedy, drama, intrigue, life lessons. It might become a little draggy in some episodes just because we want our heroes to succeed. In this case I think that's more like a personal perception than a reality. In fact, it's a really good drama overall and you won't get bored of it at all. Recommended!