One of the hardest movies I was able to watch in the late months. The truth is that I will tag it under drama, because there is no genre that would describe such script. Moebius is an open window to a horrifying, psychological and physically traumatizing life of a sick family like only Kim Ki Duk (Pieta, Amen, Arirang) could direct.
A silent movie, not in the classic way. The cast doesn't speak at all during the entire film. The strange thing about this is that you will find it uncomfortable at the very beginning, but later on this feeling disappears. Mostly because the huge story and the images splatter the tragedy in our minds.
Synopsis of Moebius Korean Movie
An alcoholic mother discovers her husband is having an affair with the drug store attendant near her house. Even tho her mind wasn't in the right track from before, this triggers a violent situation that will change the lives of the entire family.
A father that doesn't care until he has to because of the feeling of guilt. A quiet kid that tries to avoid everything that is happening until the facts blow up in his face and he ends up as the main victim.
The setting is not only disturbing but also terrifying when the mother wanting to take revenge of the father, can't find him and goes behind the kid.
Starring in Moebius Korean Movie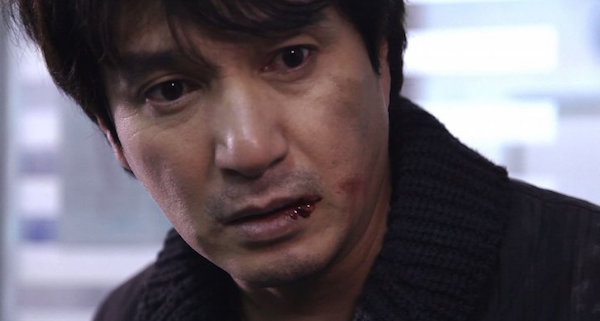 Cho Jae Hyun (Scandal, King's Wrath, El Condor Pasa) playing the unconscious, or maybe really tired father that will do as he pleases until his son suffers from the consequences of his bad decisions. He will get involved, lately and superficially, because in the end he's just a sad man without any capability of relating naturally.
Seo Young Joo (Juvenile Offencer, Golden Rainbow, May Queen) is the son of this twisted couple. He will pretend that nothing is going on, taking care only of spending time as any teenager would. The incident with his mother will make him need a new way of relating with others. A timid boy with many personality issues, he will have to fight his personal issues, originated in this dysfunctional family.
Lee Eun Woo (A Ghosts Story, An Ethics Lesson, Godsend) is this crazy alcoholic mother (believe me there's no other way to put it), that besides all this, she's violent and neglected. She doesn't seem to feel any kind of guilt neither for leaving an indelible mark in his son's life nor for abandoning him. Eun Woo plays two amazing roles in this movie, but I won't tell which ones, you will have to discover them by yourselves.
Conclusions of Moebius Korean Movie
Symbolically, the silence is, at least for me, one of the most important focal points in the movie. Representing the lack of communication that feels extremely oppressing for everyone involved. This way of telling without saying makes the movie even more interesting and the way actors perform is really remarkable.
The movie is horribly perfect. Taking the audience in a delusional roller coaster. Directed and filmed in an impeccable way, so greatly that in some moments, despite of all the drama you will find yourself laughing.
Is not an easy to watch film. Specially because it has incestuous scenes, rapes and other violent and disgusting situations portrayed. I cannot tell you more without spoiling the plot. So, its not recommended for underaged audiences, or sensitive people. The movie is an horrific travel to the depths of human filth.
An out of the ordinary and amazing movie if you enjoy watching tormenting new stuff. Highly recommended.