A long wait to see this movie for all Ko Hyun Jung work's fans. Just finished The Queen's Classroom and I loved it so, looking for more about her I found out Miss Conspirator. It's the first movie I see from her (she did more drama than movies) but still, since I didn't know much about the script I had no expectations for it.
Wondering what to tell you not to spoil anything important, the general idea of the movie is showing the life of a woman that suffers from serious panic attacks due to apparently a childhood trauma. This has made her to stay at home and have no social life, to the point that she has an application on her smartphone to call delivery service instead of her talking.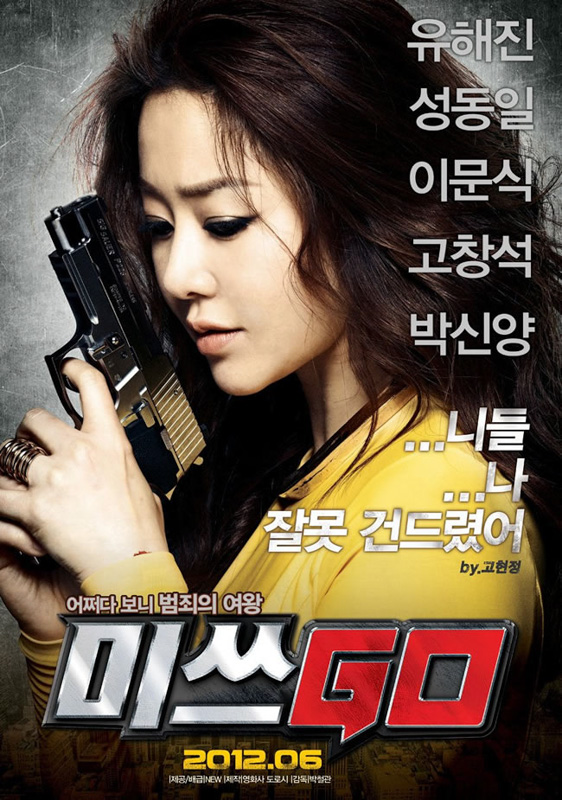 She has one only friend that has to emigrate to Japan in order to study so she will be left alone. At that point she has nothing to do but to go out. Her first encounter happens to be a really strange nun that asks her for a favor. In that moment, her life changes when she arrives to the place and the person she was supposed to meet is dead and some gangsters are looking for the one carrying the package.
Miss Conspirator 2012 cast
Ko Hyun Jung (The Queen's Classroom, Dae Mul, What's Up Fox?) as Chun So Ro.
Yoo Hae Jin (The Flu, Mama, Spy) as a double agent.
Seong Dong Il (Answer Me 1994, Miss Granny, The Grand Heist) as Chief Seong.
Lee Moon Shik (Empress Ki, Incarnation of Money, The Grand Heist) as Sa Yung Chul.
Go Chang Suk (Good Doctor, Ad Genius Lee Tae Baek, Secretly Greatly) as Detective So.
That's just the beginning of the story, you will find a lot of action, suspense and some really hilarious moments. It's a movie to enjoy, not the funniest comedy ever, but still has its bits of fun.
*TRAILER SPOILER ALERT*
You can also find this movie as Miss Go or 미쓰 GO.