If there is one word to define this film in its whole is: tough. The truth is that I had it on my list for a long time and when I finally got to see it, I wish I didn't. Not because it's bad, at all, but because it is a movie with a really hard emotional load and it takes courage to confront it and not falling into an lowering emotional whirl.
You might have seen in many dramas and movies the mob style loan sharks that usually populate the plots. This bullies are there to take care of difficult debts and in this case, the entire script will circle around one of them in particular.
Synopsis of Pieta Korean Movie
Gang Do, is a loan shark with violent methods, and he has been designated to a poor area full of artisan workers that haven't been able to pay their debts because of the 100% interest raise the moneylenders defined.
To help them pay, he helps them to become disabled and collect the insurance to finally be able to pay the debt.
Gang Do lives in poverty and violence, he has been abandoned as a kid and grew up in the most difficult situations. Rough, disgusting and with no sense humanity left, maybe things will change for him, specially when Mi Son, a mysterious woman, struggles to enter his life.
Starring in Pieta Korean Movie
Lee Jung Jin (A Hundred Year's Inheritance, Temptation, The Fugitive: Plan B) is Gang Do. A man with bad manners that has to deal with a job he rather not do but has no other choice. An amazing performance from this actor that haven't been all that great in the past. The best of him, despite the tough script.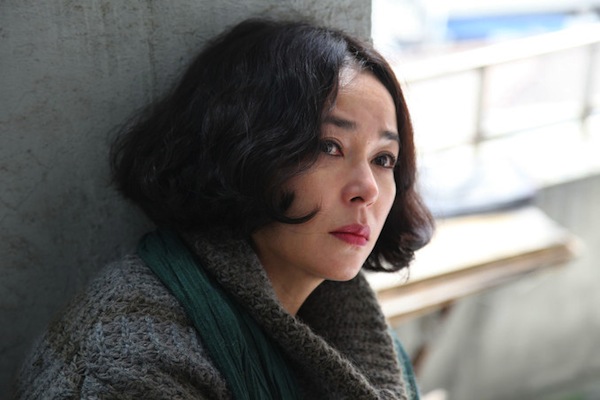 Jo Min Soo (Goddess of Marriage, Will it snow for Christmas?, Piano) is Mi Son, the mother that abandoned Gang Do. She appears suddenly in his life with all her rough manners. Trying to build a not very clear bridge between them. Also a great performance from this wonderful actress.
Also starring in Pieta Korean Movie: Woo Ki Hong, Kang Eun Jin, Jin Yong Ok, Heo Joon Seok, Kwon Se In, Kim Jae Rok, Yoo Ha Bok & Jo Jae Ryong.
Highlights of Pieta Korean Movie
The tension in the movie starts up high and continues increasing non stop. There's nothing that would tell us what is going to happen next and this conforms one of the strongest points in the movie. Since it isn't an action movie, but a really heavy drama, the chances of sticking our noses in the plot are really low, but it happens.
By telling you this, you might be looking about the hardships of watching this movie. I have to tell you, without any spoilers, the way people is treated in this movie is horrible. So is the way the two leads will start to know each other.
The whole situations happening in the movie will press your chest even a few hours after it finished. The scenes are not only epic but also full of meaning. That is, from my point of view the perfect final blow.
This story has age restricted content, and it shows really hard scenes. The direction and film is perfectly executed, what gives a big plus to the already strong plot. It's not safe to watch it on a bad day because you'll end up more depressed. In my opinion is a must if you like twisted and increasing stories with monumental endings Korean style. If you know what I mean, if not check Old Boy. Highly recommended.