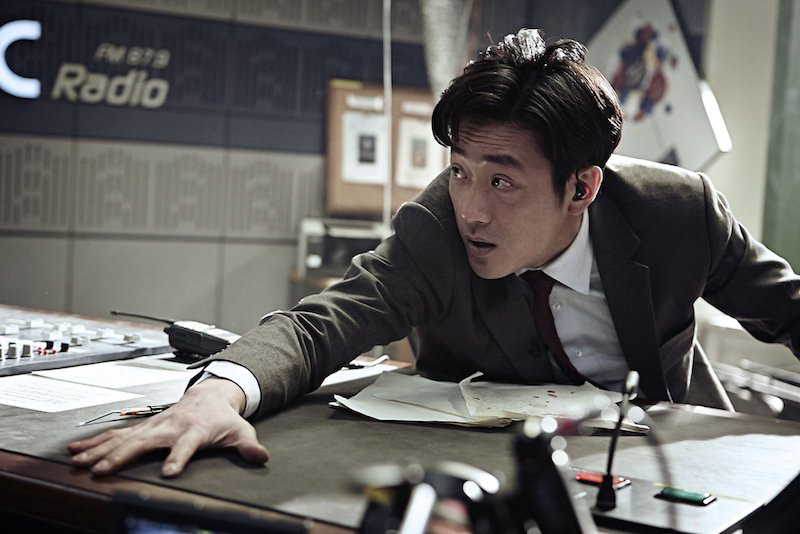 There are very few actors that can portrait solo performances like Ha Jung Woo. When the movie ends it feels that there was no other person in the screen but him. That is because he just took care of an entire movie. To tell you the truth, The Terror Live, for me, was one of the best action movies of all times. I love action, and I've seen a lot old school and new ones, but this production was just, completely amazing.
The way the story is constantly taken to an excitement level that is almost unbearable. The hand cam, close ups, vertigo and the fact that almost the whole movie happens in a radio studio. And mostly the Director plays impeccably with the out of frame.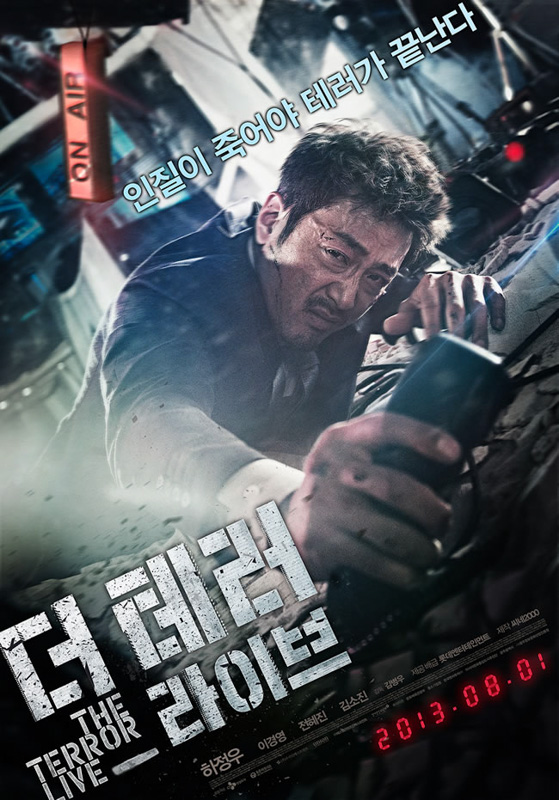 Synopsis of The Terror Live
Ex anchor man Yoon Young Hwa is now working on a radio program. He's not on the best terms with success and even tho he does his job right, he still wants to go back to his previous job. One day, while he's on air, a strange call connects. A construction worker talking about work rights and how some of his colleagues died while constructing a famous bridge.
Rudely, Young Hwa, cuts the conversation because the man got a little violent, and continues to take another call. To his (and the crew) surprise, the call couldn't be cut off. And the man ends up saying he's gonna blow up Mapodaegyo Bridge. He takes the sentence lightly until something blows up.
Young Hwa sees this as an opportunity to broadcast. This way, he will get the exclusive and his old job back. But things will get out of control because after all he's dealing with a psychopath.
The Terror Live 2013 Cast
Ha Jung Woo (H.I.T., Nameless Gangster, The Berlin File) as Yoon Young Hwa, an anchorman that had to step up from his previous job and is trying to climb his way up from a regular radio broadcaster.
Lee Kyoung Young (The Terror Live, Tazza 2, A Company Man) as Cha Dae Eun, he only cares about ratings, he promises Young Hwa his job back, but what power does he have when he stands before a terrorist.
Jeon Hye Jin (Sorry I love You, Voice of a Murderer, The Naked Kitchen) as Park Jung Min, a producer that apparently is the only one that cares about Young Hwa, or at least realizes de horror he's been put trough.
Kim So Jin (Haunters, Officer of the Year) as Lee Ji Soo, Young Hwa's ex wife, and a reporter that has to broadcast live from the explosion scene.
Even though there are some names in the cast, the thing is Jung Woo makes the movie alone with everything he's got. One of the greatest performances of him, after of course many great titles like The Chaser or The Yellow Sea, just to name a few.
There's a lot more into the plot but I really wouldn't like to spoil the movie for you. Mostly because I think it's really awesome. This is a movie that you will keep going through your head for sometime. You will find the need to link everything back together. If I could define it in just a few words that would be: a storm. You will feel like you were beaten with emotions right in front of your nose. Awesome movie, another must if you love action.