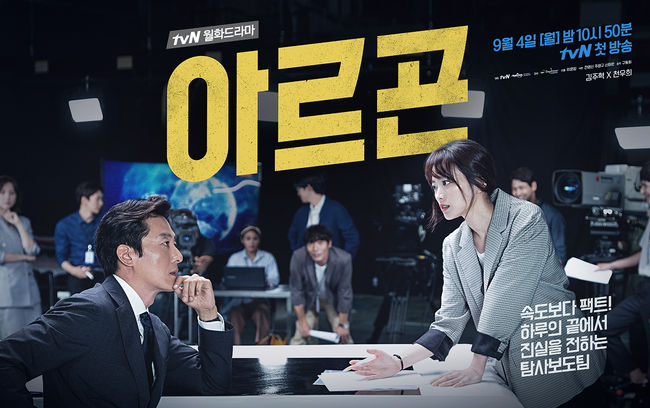 I'm always happy to see new Korean productions on display in Netflix. Argon has no well known cast, or a theme that would make us trapped by the instant. With some twist and turns, it will deliver more than we expect in the first episodes.
Synopsis of Argon Korean drama
Argon is a news program that presents original content. Lee Yeon Hwa is the leader and presenter of this unit. With a hard personality and high professionalism. He will always try to investigate a little further. Basing his informative narrative only in facts. With this he will earn a high relevance and reputation. That's why the news presented in Argon, have an extra weight of truth.
They arrive to difficult places, sometimes touching sensitive subjects like corruption in the political community.
Lee Yeon Hwa is a contract reporter that has been designated to Argon. She needs the job so she works extra hard. She will receive the best training from this great reporter, and also have some bits of hard reality that will make her grow up as a person and as a professional.
Starring in Argon
Kim Ju Hyeok
Chun Woo Hee
Park Won Sang
Shin Hyun Bin
Park Hee Von
Conclusions of Argon
The whole story starts a little silly and ordinary. So when the situations start taking place, the whole story surprises us, because we're not prepared for it.
Later on, the dialogues start getting really long, and we end up going somewhere else in our minds. I don't think that's something that just happens to me. When dialogues are well written, we stay tuned till the very end. This isn't the case.
Over all is a really slow drama. I'm not a fan of the 'everyone is evil and corrupt but me' type of dramas. And that is what we are getting with it. It might be a regular in this genre, since television is said to be a hard field to work on.
Images: Hancinema